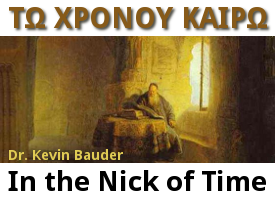 The entire "Now About Those Differences" series is available here.
The Disobedient Brother
Fundamentalism is predicated upon the notion that the gospel is essential to Christian fellowship. The fundamentals are fundamental precisely because of their relationship to the gospel. Outside the gospel, no Christian fellowship is possible. Christian fellowship should never be pretended with those who profess Christianity but deny the gospel (apostates). The gospel forms the boundary of Christian fellowship.
In addition to a boundary, Christian fellowship has a center. The center is "all the counsel of God" (Acts 20:27). The center includes the fullness of all that God wishes His people to know and to do. This "whole counsel of God" is also known as "the faith."
Fellowship (koinonia) is properly defined as something that is held in common. Whenever Christians disagree about some aspect of the faith (the whole counsel of God), they do not hold that area in common. By definition, their Christian fellowship is truncated or limited.
God wants His people to know and to believe all that He has revealed. God wants His people to obey all that He has commanded. Any failure to believe all that God has revealed, and any neglect to obey all that God has commanded, is sin. It is disobedience.
2709 reads