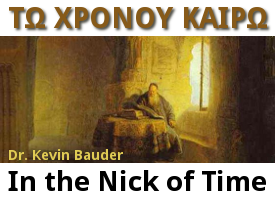 The entire "Now About Those Differences" series is available here.
The Disobedient Brother
Fundamentalism is predicated upon the notion that the gospel is essential to Christian fellowship. The fundamentals are fundamental precisely because of their relationship to the gospel. Outside the gospel, no Christian fellowship is possible. Christian fellowship should never be pretended with those who profess Christianity but deny the gospel (apostates). The gospel forms the boundary of Christian fellowship.
In addition to a boundary, Christian fellowship has a center. The center is "all the counsel of God" (Acts 20:27). The center includes the fullness of all that God wishes His people to know and to do. This "whole counsel of God" is also known as "the faith."
Fellowship (koinonia) is properly defined as something that is held in common. Whenever Christians disagree about some aspect of the faith (the whole counsel of God), they do not hold that area in common. By definition, their Christian fellowship is truncated or limited.
God wants His people to know and to believe all that He has revealed. God wants His people to obey all that He has commanded. Any failure to believe all that God has revealed, and any neglect to obey all that God has commanded, is sin. It is disobedience.
When two Christians affirm contrary beliefs about the whole counsel of God, they cannot both be right. At least one of them is wrong—and perhaps they both are. In other words, disagreements about the faith usually imply some level of disobedience as well as some limitation upon Christian fellowship.
Our failure to believe and obey is not simply a function of our finiteness. Every one of us could have known more if we had simply applied ourselves to understanding. All of us might have obeyed more perfectly if we had simply exerted ourselves. In other words, every one of us is actually disobedient to some degree, and our disobedience is culpable. It is not ever merely a matter of circumstance. At minimum, our disobedience involves some failure of determination, some lack of zeal, some neglect of duty.
All of our brothers are disobedient brothers. We ourselves are disobedient brothers. Our disobedience is blameworthy, and none of us has yet repented of all disobedience.
These observations are of special relevance for a certain species of fundamentalist. Some fundamentalists insist that Christians are obligated to separate, not merely from apostates (professing Christians who deny the gospel), but also from all "disobedient brethren." These fundamentalists correctly insist that certain Scriptures do require the limitation of fellowship with professing brothers who sin (1 Cor. 5:11; 2 Thess. 3:6, 14; et al.—my present purpose is not to expound these texts). These passages must not be dismissed, nor may they be limited to the disciplinary process of the local congregation. It makes little sense to suggest that a notorious adulterer should be expelled from the pulpit of his church but invited to preach at the local Bible college. Separation among believers must extend further than simple congregational discipline. The problem for these fundamentalists consists in finding any brethren who are not disobedient.
These circumstances appear to place Christians in a dilemma. On the one hand, we are required to separate from disobedient brethren. If we fail to heed this requirement, we run the risk of disobedience ourselves. On the other hand, if we separate from every disobedient brother, we shall separate from everyone—including ourselves. Surely this behavior is schismatic.
Many evangelicals have seized one horn of this dilemma, failing to recognize necessary limitations upon their fellowship with other believers. Many fundamentalists have seized the opposite horn, implementing draconian and unnecessary separations. Historically, however, fundamentalists of the main stream have relied upon two insights that allow them to slip between the horns of the dilemma.
The first insight involves the nature of fellowship. As a rule, fundamentalists and their predecessors have noted that not all fellowship between believers is equal. Rather, the New Testament depicts several different kinds of fellowship relationships, ranging from simple, personal fellowship through discipleship and targeted collaboration, to church membership and church leadership. Some of these imply yet other levels that are not explicitly depicted in the Scriptures themselves.
The point is that different levels of fellowship require different criteria. Simple, personal fellowship is probably the broadest level, and requires little other than adherence to the gospel and a sincere desire to serve the Lord. At the opposite extreme, church officers must meet many requirements that touch upon both their character and their abilities. It should be obvious that Christians can and do fellowship personally with brothers and sisters who would never be qualified for church office. In other words, fellowship is not necessarily all-or-nothing. Neither is separation.
The second insight has to do with the nature of obedience. From the church fathers onwards, Christians have noted that some aspects of the faith are more important than others. This insight is shared by mainstream fundamentalists. The deity of Christ is an aspect of the faith. The identity of the sons of God in Genesis 6 is an aspect of the faith. Since both are part of the faith, both are important. Clearly, however, they are not equally important.
All disagreements over the faith represent limitations upon fellowship. Yet not all of those limitations are equally severe. Few Christians have required absolute agreement in every area as the criterion for fellowship at every level. In other words, we are all willing to tolerate some degree of disobedience in our fellowship relationships—arguably, even our relationships with church leaders.
By applying these two insights (levels of fellowship and levels of doctrinal importance), a balanced fundamentalism recognizes that no one can draw a single line that determines all decisions in matters of fellowship and separation. Rather, careful separatists will have to weigh a matrix of considerations. One of these considerations will be an evaluation of the level of fellowship, identification, and cooperation that is anticipated. The second consideration will be an assessment of the doctrinal and practical differences that might affect the possibility of fellowship at that level. A third consideration will probably be the attitude that a brother has toward those differences and the direction in which he is moving with respect to them.
Wise and biblical decisions about fellowship and separation are made by weighing all of the above considerations. Rarely are these decisions as easy as observing whether a brother is obedient or disobedient. The fact is that every one of our brothers is disobedient at some point, just as we ourselves are. The problem that we have to wrestle with is the nature of our brother's disobedience and its effect upon the various levels of fellowship.
In the next essay, I want to apply these principles in three directions. These directions include the (now old) new evangelicalism, the growing coalition of conservative evangelicals, and the hyper-fundamentalists of the far Right. Then, in the final essay, I wish to explore certain specific problems connected with what is sometimes called "platform fellowship."
The Third Hymn: Of Christs Birth in an Inne
Jeremy Taylor (1613-1667)
The blessed Virgin travail'd without pain,
And lodged in an Inne,
A glorious Star the signe
But of a greater guest then ever came that way,
For there he lay
That is the God of Night and Day,
And over all the pow'rs of heaven doth reign.
It was the time of great Augustus Tax,
And then he comes
That payes all sums,
Even the whole price of lost humanity,
And sets us free
From the ungodly Emperie
Of Sin, and Satan, and of Death.
O make our hearts, blest God, thy lodging place,
And in our brest
Be pleas'd to rest,
For thou lov'st Temples better then an Inne,
And cause that sin
May not profane the Deity within,
And sully o're the ornaments of Grace. Amen.
[node:bio/kevin-t-bauder body]
5287 reads