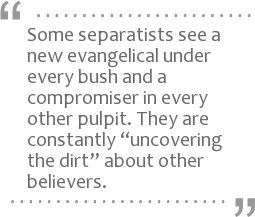 Several bloggers have recently addressed the subject of separation, suggesting that current leaders such as Kevin Bauder, Dave Doran, and Tim Jordan are moving to a position that contradicts the teaching of an earlier generation of fundamentalists.
In reality, the leaders of the 1960s and 70s did not always agree on the best way to apply biblical teaching about separatism, either. Separatism then and now has always reflected a range of values, with good men differing on particulars as they responded to the issues of their era. For instance, Bob Jones Jr. and Bob Jones III were sharply critical of Pickering's pamphlet "Baptist Principles Vs. Interdenominationalism." They later faulted Pickering for accepting speaking engagements from organizations they considered to be new evangelical. The leaders eventually reconciled in the early 1990s, but had rarely spoken to each other for twenty years previous.
Disappointed with the rough-and-tumble disagreements of his era, Pickering concluded his seminal Biblical Separation with a critique of fundamentalism's well-documented foibles—advice that would have saved us a lot of grief, had we listened. A portion of the book's conclusion follows.
.  .  .  .  .  .  .  .  
The pitfallls of separatists
Separatists are human. They have sins. They are not perfect. While the matters about to be discussed are not problems exclusively for separatists, separatists are especially vulnerable to them by virtue of their unique position.
9013 reads