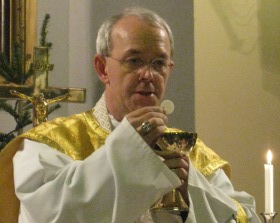 Editor's note: this article first appeared in the Journal of Ministry & Theology, Fall 2008. Some of the content and footnotes are a bit dated now, but the state of confusion in evangelicalism has changed little and the article still speaks well to the issue today in 2010.
Part 1: the issue explored
One of the greatest shocks in the history of the Evangelical Theological Society occurred in May 2007 when the president of the organization, the respected Francis Beckwith, resigned his position and membership because he had become a Roman Catholic.1 Beckwith, currently Associate Professor of Philosophy and Church-Studies at Baylor University (traditionally a Baptist school), had left the Catholic church when he was fourteen years old and was now returning to his roots after many years in evangelical churches.
The official response from the ETS Executive Committee was cordial, thanking Beckwith for his past work for the society, but highlighting the necessity of a parting of the ways largely because "we wholeheartedly affirm the distinctive contribution and convictional necessity of the work of the Evangelical Theological Society on the basis of the 'Bible alone and the Bible in its entirety' as 'the Word of God written and…inerrant.'"2 The response goes on to highlight that this distinction involves the use of a different Bible, the Catholic Bible which "posits a larger canon of Scripture than that recognized by evangelical Protestants." Beckwith apparently affirmed that he could sign the ETS statement since it does not enumerate the particular books of its Bible (although its tradition does), but he decided not to pursue continuance with the society because it would have produced a major debate that could possibly hurt the organization.3
5649 reads