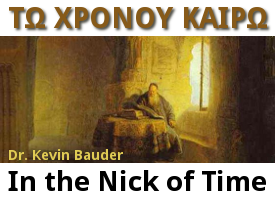 The entire "Now About Those Differences" series is available here.
How Important Is Separation?
Fundamentalists are sometimes wryly accused of making separation into a fundamental of the faith. Certainly, fundamentalists do emphasize separation. In fact, separation is the differentia that distinguishes fundamentalists from others in the genus of evangelicalism.
Most fundamentalists, however, would probably deny that separation is itself a fundamental. By definition, a fundamental is essential to the gospel. To deny a fundamental is to deny the gospel and to surrender any legitimate recognition as a Christian. Few among even the most extreme fundamentalists would level the charge of apostasy at other evangelicals who are less separatistic.
Nevertheless, we must not underestimate the importance of separatism. John's second epistle addresses the matter directly. In verse 7, John mentions that many deceivers have gone into the world. These individuals deny a fundamental doctrine, i.e., the incarnation. Because of their denial, they are deceivers and antichrists.
In verse 8, John cautions believers to be careful. He intimates that a believer might lose some reward that could otherwise have been enjoyed. This is a matter that should give Christians pause. What sort of activity might keep them from receiving a full reward?
Rather than answering this question immediately, John returns to his indictment against false teachers in verse 9. John insists that whoever departs from correct teaching about Christ does not have God. In other words, such people are not to be recognized as believers at all.
Verse 10 anticipates a situation in which a false teacher approaches a believer in order to propagate false doctrine. John's requirements are quite strict: believers must not receive this false teacher into their houses, nor must they bid the false teacher chairein. Whether the "house" is an actual dwelling or a house church is beside the point at the moment. The idea is that believers are not to open themselves to false teachers who come with the goal of propagating their doctrines.
The term chairein was simply the standard Greek greeting during the New Testament era. It was widely employed in secular Greek and has no particular theological overtones. What John is doing is forbidding believers from even extending a civil greeting to apostates who are attempting to teach their false doctrines.
If John's instruction seems harsh, it is. It constitutes a violation of basic civility. To obey John at this point runs counter to upbringing, custom, and entrenched habit.
Why is it so important to avoid even a civil greeting? John answers this question in verse 11. Whoever so much as bids the apostate chairein becomes a partner in the evil that the false teacher does. Even the slight encouragement of a civil greeting joins the believer in fellowship with the apostate and gains the believer a share in the damage that the apostate wreaks.
The situation that John describes is just the reverse of the one that Paul mentions in Philippians 4:10-19. There, the Philippian believers had sent a gift that encouraged Paul. He rejoiced in the gift, because by giving it the Philippians had secured a share in the blessings of Paul's ministry (v. 17).
To encourage a servant of Christ is to gain a share in the good that he does. To encourage an enemy of Christ (even with so much as a civil greeting) is to gain a share in the evil that he does. In the context of 2 John, such sharing in evil is precisely how a believer can lose reward.
Separation is not itself a fundamental of the faith, and non-separatists are not necessarily denying the gospel. Nevertheless, the failure to practice separation may well gain them a share in the evil that false teachers do. To align oneself with the enemies of Christ is never virtuous. Though not a denial of the gospel, it is a betrayal.
The gospel defines the boundary of Christian fellowship. To extend Christian recognition to someone who denies the gospel is, in effect, to dethrone the gospel from its position of privilege. It is to become indifferent to the importance of the gospel as the line of demarcation between Christianity and anti-Christianity.
Christians are supposed to defend the gospel (Phil. 1:17). Naturally, defending the gospel includes defending its purity against deniers and its truth against attackers. The argument of 2 John, however, implies that defending the gospel also entails defending its position as a boundary marker for Christian faith and fellowship.
The main error of the (now old) new evangelicalism was exactly that it extended Christian recognition and fellowship to gospel deniers. The very first squawk that neo-evangelicalism gave was anti-separatistic. Its tactic was to tolerate apostates where they existed, to cooperate with them in ministry, and to infiltrate institutions that they had captured. While most evident in the cooperative evangelism of the Graham crusades, the ethos of neo-evangelicalism was and is much more widely held.
Fundamentalists were scandalized by the new evangelicalism from its beginning. They should have been. No wonder. Extending Christian recognition to an apostate is scandalous behavior. Fundamentalists were right to reject the leadership of figures like Harold John Ockenga, Edward John Carnell, and Billy Graham. How could they have done otherwise? Granted, such men were not apostates, but they had earned a share in the evil of apostasy.
Fundamentalists could never understand evangelicals who agreed that apostasy was serious but who nonetheless aligned themselves with neo-evangelicals. Frankly, I share their perplexity. Not that I think neo-evangelicals or their heirs are apostates—far from it! Seen from the perspective of 2 John, however, their conduct cannot be regarded as anything less than a scandal. If we would not follow a pastor who was an adulterer or an embezzler, then we should not follow people who adopt the principles of new evangelicalism.
Nevertheless, we must also address the middle group. Fundamentalism and neo-evangelicalism have never exhausted the evangelical options. Many evangelicals attempt to separate from apostates but cannot bring themselves to separate from other evangelicals. What are we to do about them?
One easy answer is to suggest that they are disobedient brethren. The usual inference is that anyone who fellowships with a new evangelical is tainted by new evangelicalism and, therefore, separation must be exercised just as if he were a new evangelical. This is a convenient answer, but I think it is too facile.
In order to explain why I think so, I am going to have to make a detour through the category which I will call the "disobedient brother." I want to find out how much territory that term actually covers. This examination will necessarily obligate us to ask whether we separate from all disobedient brethren absolutely, from only some disobedient brethren absolutely, or from various disobedient brethren to varying extents. It will also raise the interesting question of what separation should look like to our Right (i.e., from extreme fundamentalists) as well as to our Left.
Disorder and Frailty
Henry Vaughan (1621-1695)
I.
When first thou did'st, even from the grave
And womb of darkness, beckon out
My brutish soul, and to thy slave
Becam'st thyself both guide and scout;
Even from that hour
Thou got'st my heart; and though here tost
By winds, and bit with frost,
I pine and shrink,
Breaking the link
'Twixt thee and me; and ofttimes creep
Into the old silence and dead sleep,
Quitting thy way
All the long day;
Yet sure, my God! I love thee most.
Alas, thy love!
II.
I threaten heaven, and from my cell
Of clay and frailty break and bud,
Touch'd by thy fire and breath; thy bloud,
Too, is my dew, and springing well.
But while I grow,
And stretch to thee, ayming at all
Thy stars and spangled hall,
Each fly doth taste,
Poyson, and blast
My yielding leaves; sometimes a showr
Beats them quite off; and, in an hour,
Not one poor shoot,
But the bare root,
Hid under ground, survives the fall.
Alas, frail weed!
III.
Thus like some sleeping exhalation.
Which, wak'd by heat and beams, makes up
Unto that comforter, the sun.
And soars and shines, but, ere we sup,
And walk two steps,
Cool'd by the damps of night, descends.
And, whence it sprung, there ends.
Doth my weak fire
Pine and retire;
And, after all my hight of flames,
In sickly expirations tames.
Leaving me dead
On my first bed.
Until thy sun again ascends.
Poor, falling star!
IV.
O, yes! but give wings to my fire;
And hatch my soul, until it fly
Up where thou art, amongst thy tire
Of stars, above infirmity;
Let not perverse
And foolish thoughts adde to my bill
Of forward sins, and kill
That seed which thou
In me didst sow;
But dresse, and water with thy grace,
Together with the seed, the place;
And, for His sake
Who died to stake
His life for mine, tune to thy will
My heart, my verse.
Hosea vi. 4.
Ephraim, what shall I do unto thee? O Judah, how shall I intreat thee? for thy goodness is as a morning cloud, and as the early dew it goeth away.
[node:bio/kevin-t-bauder body]
5452 reads