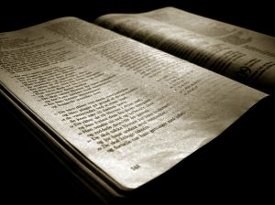 This sermon outline continues a series preached in 2002.
Precious Knowledge
Intr​o
In 1928 Alexander Fleming was doing research in the area of bacteriology. He'd been growing a bacterium called staphylococcus in a culture dish and found it had been contaminated by a mold of some kind. Taking a closer look, he discovered that the mold was killing the bacteria and did this consistently. Howard Florey and Earnst Chain learned how to extract the substance and use it as medication. It was eventually used to fight staph infections, gangrene, scarlet fever, meningitis, and more. We know it as penicillin. It was a great discovery, priceless knowledge.
Nowadays we take that discovery for granted. We don't remember what life was like before antibiotics. It's human nature to lose sight of the context of things we benefit from and, as a result, fail to fully appreciate them.
As Christians we even manage to get used to the gospel—especially the gospel in its totality—God's great redemptive, gospel plan. We weren't around in the days before this plan was known, and we slip into taking it for granted. But in the days of the apostles, the gospel plan as a complete whole was a great new discovery of sorts. It came by revelation rather than research. That makes the knowledge even more precious.
When I say "God's great gospel plan," I'm referring to what Paul highlights in Romans 8.
For whom he did foreknow, he also did predestinate to be conformed to the image of his Son, that he might be the firstborn among many brethren. Moreover whom he did predestinate, them he also called: and whom he called, them he also justified: and whom he justified, them he also glorified. What shall we then say to these things? If God be for us, who can be against us? (KJV, Rom. 8:29-31)

For I consider that the sufferings of this present time are not worthy to be compared with the glory which shall be revealed in us. For the earnest expectation of the creation eagerly waits for the revealing of the sons of God. For the creation was subjected to futility, not willingly, but because of Him who subjected it in hope; because the creation itself also will be delivered from the bondage of corruption into the glorious liberty of the children of God. (NKJV, Rom. 8:18–21)
Our knowledge of this grand redemptive plan in its entirety is precious for at least four reasons. Peter emphasizes them in these verses.
1. Our knowledge of God's entire gospel plan is precious because the greatest believers of the past longed for it (v. 10-11)
Of this salvation the prophets have inquired and searched carefully, who prophesied of the grace that would come to you, 11 searching what, or what manner of time, the Spirit of Christ who was in them was indicating when He testified beforehand the sufferings of Christ and the glories that would follow. (1 Pet. 1:10–11)
a. Note how badly they wanted to know: "inquired and searched carefully." The words are in reverse order in the Greek text and describe two activities: to go looking hard for something and to ask a lot of questions to find out something. Better men than you and I were not granted the privilege of knowing it!
b. Notice what they wanted to know: (v.11) "what, or what manner of time"
c. Also important: What they already knew: (v. 11) "sufferings of [Messiah] … glories that would follow."
Matthew 13:15-17 deepens our understanding.
For the hearts of this people have grown dull.
Their ears are hard of hearing,
And their eyes they have closed,
Lest they should see with their eyes and hear with their ears,
Lest they should understand with their hearts and turn,
So that I should heal them.

But blessed are your eyes for they see, and your ears for they hear; for assuredly, I say to you that many prophets and righteous men desired to see what you see, and did not see it, and to hear what you hear, and did not hear it.
Jesus said "blessed are your eyes … ears." Many others had wanted to know but did not receive that blessing. People "of whom the world was not worthy" (Heb. 11:32-40). Yet we have this knowledge!
2. Our knowledge of God's entire gospel plan is precious because the greatest believers of the past prepared us for it (v.12a)
"to us they were ministering"
Though pre-apostolic believers did not have knowledge of the whole plan of redemption, they did have quite a bit of it in bits and pieces.
The coming Sufferer—Psalm 22, Isaiah 53
The suffering of Messiah and, in context, glory—Dan. 9:25-26
In our day where everything happens so fast, it's hard to imagine a process of revealing and teaching that spanned about 1500 years. God was graciously and patiently preparing us for the rest of the story.
3. Our knowledge of God's entire gospel plan is precious because God Himself delivered it (v.12.b)
"the things which now have been reported to you through those who have preached the gospel to you by the Holy Spirit"
Some things are too important, too priceless, to deliver any way but in person.
In 1990 I stood on boardwalk along the St. Clair river in Michigan beside a young woman. At what seemed like the right time, I opened a little box and displayed a ring, an engagement ring. I was nervous about carrying the ring around all morning (on my budget, it was the smallest, most expensive thing I'd ever held in my hand). The weather was actually pretty bad that day, too. So why didn't I just mail it to her? There is meaning in the method of delivery! God brought word of His intent to save in personal form in the incarnation, the word made flesh. Through the apostles He worked again in personal form through the Holy Spirit and brought word of the full scope of His plan to forgive sinners, transform them, glorify them, and even redeem the creation.
He brought the precious truth to us personally.
4. Our knowledge of God's entire gospel plan is precious because God's finest servants still want to know it (v.12c)
"things which angels desire to look into"
Compare Hebrews 1:14, "Are they not all ministering spirits, sent forth to minister for them who shall be heirs of salvation?"
As Peter makes his case that what we are blessed to know is priceless—and undeserved—he caps it off with a reminder that even angels do not quite understand what we who believe have come to understand.
Conclusion
Truly we are greatly privileged to know what we do. Many before us have longed to know, great prophets have helped us come to know, God Himself has made sure we know, and even angels would like to fully know. So what will we do with what we know? Be confident of our future? Yes. Be strong through life's struggles? Yes. Tell others what we know? Yes. All of these and one more thing besides. This additional response is the subject of Peter's next paragraph.
[node:bio/aaron-blumer body]
1277 reads