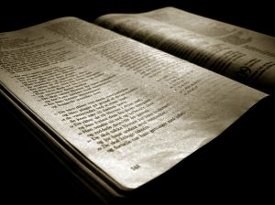 Reading sermon outlines has never been one of my favorite things to do. Creating them, though, is another story. It's therapeutic. The other day I discovered that dusting off old ones and tidying them up was a healthy exercise as well. There's a certain amount of "preaching to yourself" involved, and who doesn't need more of that?
We also occasionally get requests for sermon outlines at SI—and I'm pretty sure I've got a handful or two collecting digital dust on my hard drive.
This first installment dates from 2002, the beginning of a series preaching through 1 Peter. I like to think my later outlines are much better, after a decade of practice (and some small improvements did creep in here and there during editing). It did my heart good to ponder the truths here and I hope they will bless some of you as well.
Strangers
Intro
In Italy there is a cathedral bell tower that has a problem. It leans—really leans. We all know it as the "leaning tower of Pisa." The eight-story round tower is 180 feet tall and 52 feet in diameter at the base. The interior includes a 294-step spiral staircase that leads to the bell chamber. Very cool, but none of it's very useful…because it's leaning.
Why does it lean? It has an inadequate foundation.
Begun in 1173, construction stretched over a period of nearly 200 years, partly because of delays caused by the tower's structural problems. By the time the first three stories were completed, one side of the tower had already begun to sink into the soft soil, and construction was halted for nearly 100 years. The first attempts to counter the lean of the structure were made in 1275, when construction resumed.
But they were never able to fix it, because the problem was deeper: at the very beginning—the foundation.
Foundational to everything we do as Christians is a clear understanding of who we are as God's people. Peter gives this much attention in the first chapter of this letter. In the first few verses he focuses in particular on one aspect of who we are: strangers.
Peter, an apostle of Jesus Christ, To those who are elect exiles of the Dispersion in Pontus, Galatia, Cappadocia, Asia, and Bithynia, 2 according to the foreknowledge of God the Father, in the sanctification of the Spirit, for obedience to Jesus Christ and for sprinkling with his blood: May grace and peace be multiplied to you. (ESV, 1 Pet. 1:1–2)
1. We are displaced strangers.
"Exiles of the Dispersion" (AV "strangers scattered") means basically displaced foreigners or strangers. It refers to believers scattered throughout the regions Peter names. For us, the phrase reflects two realities.
Paul helps us see the first one: "But our citizenship is in heaven, and from it we await a Savior, the Lord Jesus Christ" (ESV, Phil. 3:20). (1) We are here only temporarily.
(2) We are here as misfits. (See 1 Pet. 4:4)
I dropped by the local middle school one spring during "Reading Week." I wandered around a bit, a nearly middle aged (at the time) guy surrounded by kids and a few adults, all ignoring me. They were all focused on a particular purpose and I wasn't part of it. I soon began to feel, "I don't really belong here. I'm just here for a little while." We're all here for a little while and not quite fitting in.
Our identity as displaced strangers has important implications. For one, this life in this world is temporary and less important than the next one. We all want a happy life, but it changes everything if: (a) this isn't all there is and (b) this isn't even the most important part of what is.
I remember how important the daily routine seemed in elementary school. In 4th grade in Miss R's class, I felt great daily anxiety over whether I'd remember to handle my lunch box right (bring it, put it up on coat rack and don't ever, ever, ever tuck it under your chair!). I worried a lot about that then. It was the biggest problem in my life! It's now just a dim and sort of funny memory. Eventually this life and the things that seemed so important—as the song says, "remembered there will only bring a sigh."
So when it comes to getting a promotion at work, winning a ball game, getting that new thing, paying the bills, etc.—relax. This stuff is not that important in the long run. Later in this chapter Peter reminds of what is.
2. We are beloved strangers.
You've all experienced the difference between being allowed as a visiting presence among people who don't know you vs. being truly welcomed by people who know and love you. It's OK to be a stranger—a temporary guest—if you're a beloved stranger. We're not going to be welcomed this way by those hostile to the faith (John 15:19 comes to mind), but Peter assures us that the Creator who owns this world does welcome us this way—to Him, we are beloved.
Verse 2 describes us as "elect." Peter answers three questions here about our election.
Question 1: Why? "according to the foreknowledge"
The word rendered "foreknowledge" means "having regard for" or "centering one's attention on." It means He chose us because He decided to love us. Why did He decide to do that? Peter isn't telling us why!
Ever get the series of "why" questions from a child? Sometimes they ask important "why" questions. But sometimes they're pretty pointless. "Daddy, why are you putting your shoes on?"
"I'm going out to mow."
"Why are going out to mow?"
"Because the grass is too long."
"Why is it too long?"
"Because it doesn't look good."
"Why doesn't it look good?"
"I don't know. It just doesn't…OK?"
The reality of the situation is that the child doesn't need to know and wouldn't understand anyway. Reminds me of a fascinating fact Moses revealed to the Israelites:
It was not because you were more in number than any other people that the LORD set his love on you and chose you, for you were the fewest of all peoples, 8 but it is because the LORD loves you and is keeping the oath that he swore to your fathers, that the LORD has brought you out with a mighty hand and redeemed you from the house of slavery, from the hand of Pharaoh king of Egypt. (ESV, Deuteronomy 7:7–8)
When it comes to God's foreknowing us, we wonder why. But more important than "what were His reasons?" is "what were not His reasons?" Two passages rule out some attractive possibilities: Ephesians 2:8-9 and Titus 3:5-6.
Not by works of righteousness which we have done, but according to his mercy he saved us, by the washing of regeneration, and renewing of the Holy Ghost; 6 Which he shed on us abundantly through Jesus Christ our Saviour; (KJV)
It wasn't because He saw that we would repent on our own and be good—or even that we'd be good afterwards: "That guy's going to be a good man so I'm going to choose him." No, "That guy is becoming like Christ because I chose him and I'm bringing that about."
We have no room for pride or looking down on unbelievers. Some act as if an unbeliever couldn't possibly be a nice person, couldn't possibly be capable of love or capable of doing good. This is not true. God's grace is everywhere—but that common grace is not saving grace.
Romans 3:27—Where is boasting then? It is excluded. By what law? of works? Nay: but by the law of faith.
Question 2: How? "through the sanctification of the Spirit"
The Spirit set us apart. What does that mean? What did He do?
John 16:8—And when he is come, he will reprove the world of sin, and of righteousness, and of judgment:

Romans 8:11—But if the Spirit of him that raised up Jesus from the dead dwell in you, he that raised up Christ from the dead shall also quicken your mortal bodies by his Spirit that dwelleth in you.
Question 3: What for? "unto…"
(1) For obedience (to the gospel). (Compare 4:17 "obey not the gospel.")
(2) For sprinkling (cleansing).
Conclusion
Like the leaning tower of Pisa, the foundations of our faith can sometimes deteriorate and throw everything else out of kilter. Unlike the tower, there's a solution. Faith is strengthened, fortified, by the rock-solid truths of who we are and how we got that way. Who are we and how did we get that way? We are temporarily displaced persons in this world, people whom God has chosen to be His own, purely out of the kindness of His heart.
[node:bio/aaron-blumer body]
1109 reads