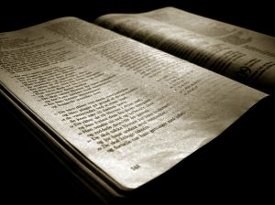 This outline continues a series I preached in 2002. Due to overly sketchy notes, historical material is drawn from sources I'm now unable to identify. Unless otherwise noted, Scripture quotations are from the KJV.
Born Again
I recall seeing a bumper sticker once that said "born OK the first time." I was puzzled at first, then it clicked. The sticker was a response to all those "born again" bumper stickers that used to be so popular (1980s?). I chuckled, but then thought, "how tragically far from the truth."
In these verses, Peter writes to remind us that though we were not born OK the first time, those who believe the gospel are born far more than "OK" the second time.
Blessed be the God and Father of our Lord Jesus Christ, which according to his abundant mercy hath begotten us again unto a lively hope by the resurrection of Jesus Christ from the dead, 4 To an inheritance incorruptible, and undefiled, and that fadeth not away, reserved in heaven for you (KJV, 1 Peter 1:3–4)
Context: Peter is laying the foundational truths of who we are in Christ and how we got that way. In 1:1-2, he reminds us that we're strangers, displaced but beloved. Here we see that we are also reborn.
We need to return again and again to the truth of our new brith and savor it. When we do, our attitudes are shaped in in four important ways.
1. We are filled with joy ("Blessed be… God").
"Blessed be … God" is an expression of praise, propelled by joy.
For example, David blessed God after crowning Solomon:
1 Kings 1:48 And also thus said the king, Blessed be the LORD God of Israel, which hath given one to sit on my throne this day, mine eyes even seeing it.
Ezra blessed God when the captives were given permission to return to Jerusalem and rebuild temple:
Ezra 7:27  Blessed be the LORD God of our fathers, which hath put such a thing as this in the king's heart, to beautify the house of the LORD which is in Jerusalem
The truth of our new birth evokes similar joy and praise. It's one reason we sing the songs and hymns we do, why we worship. It's a way to keep coming back to the truth of what God has graciously done for us.
As a kid, I saved up my birthday money one year and bought new BB gun. It was a Daisy Powerline, powered by a compressed co2 cartridge. I loved that thing. Not only could it easily send a BB through both sides of a pop can (maybe two of them), but it was also a thing of beauty. Some of you have felt that way about guns too, and you know what I mean. For days, I kept going back to the box, opening it up, and looking at that gun one more time. What I felt was, "I've been given a treasure!"
Our songs and hymns should both express and stimulate a much higher form of that "I've been given a treasure" attitude.
Nicolaus Von Zinzendorf was born in Dresden, Germany into one of the most noble and wealthy families in all of Saxony. He was educated at the Universities of Hale and Wittenberg and was known as a man of high culture yet genuine faith. He eventually became Counselor of the State at the Court of Saxony, but he found that what he really wanted to do was preach. So in 1734 he received his preaching license from the University of Tubingen and joined the Church of the Moravian Brethren (Anabaptist background).
Zinzendorf was also a hymnist. One of his gems was later translated by John Wesley.
Jesus Thy blood and righteousness
My beauty are, my glorious dress;
Midst flaming worlds, in these arrayed,
With Joy shall I lift up my head.

Bold shall I stand in Thy great day,
For who aught to my charge can lay?
Fully absolved through these I am,
From sin and fear, from guilt and shame.
When we ponder the new birth we've been given, we're filled with worshipful joy.
2. We are filled with humility ("according to his abundant mercy").
What does "abundant mercy" suggest?
Suppose someone came to you and said "I'd like to give you two thousand bucks to fix up your wardrobe." You'd probably have mixed feelings. "How generous!" But also, "Wait a second—is my wardrobe that bad?" The size of the remedy says something humbling about the size of the problem.
"Abundant mercy" tells us that not only was mercy involved in solving our sin problem, but a whole lot of mercy was involved—more than we're really capable of appreciating. The abundance of mercy required is a measure of the depth of our inability to deal with sin by our own means.
3. We are filled with confidence ("unto a lively hope by the resurrection").
The Scriptures tell us we're born again into something: a "lively hope," a "hope that is alive." The same word is used in "living God," "living sacrifice," and "new and living way."
Hebrews 10:19-22 Having therefore, brethren, boldness to enter into the holiest by the blood of Jesus, 20By a new and living way, which he hath consecrated for us, through the veil, that is to say, his flesh;
A living hope is a hope that is real, genuine, present within us now—a hope that makes a difference daily. What is the hope? It's the assurance that, as believers, we will eventually be perfect beings who live in a perfect world in perfect relationship with God and everyone else.
"By the resurrection" emphasizes both the basis and the power behind our birth into living hope. It refers to Christ's saving work, but focuses on His triumph over death. To look at it another way, it emphasizes God's power to turn people completely around.
Webster says a "turnaround" is "a complete change from a bad situation to a good situation, from one way of thinking to an opposite way of thinking, etc." One of the companies I used to work for had over sixty thousand employees at one point in its history. But the company fell on some hard times. After years of decline, the board brought in a new CEO. He was hailed as a turnaround expert. His challenge was to take this discouraged, money losing, debt-ridden company and turn it into a one billion dollar profit machine. It would have been quite a turnaround. He failed, but even if he'd succeeded it would be nothing at all compared to the turnaround of a resurrection.
The truth of the second birth fills us with confidence in the power of God to make all things new. If He can make the dead alive, He can turn anyone around.
4. We are filled with anticipation  (v.4 "to an inheritance…")
Peter uses three words describe the inheritance we have been reborn into. For some reason most translations ruin the parallelism by translating the third word as a phrase. What we're told though is that the inheritance reserved for us in heaven is aphtharton, amianton and amaronton: undecaying, undefiled and unfading. Peter uses three intentionally quite similar (and similar sounding) words to convey one big idea: permanence—real permanence. Unlike anything in this world (Matt. 6:19-20), what awaits the reborn is really permanent. It's gracious blessing that never ends.
When we think of the new birth we've received, we should also think of the gracious future that awaits us. When we understand that, even a little, our hearts are filled with thankful anticipation.
Conclusion
We were not born anything like OK the first time. But those who believe have been born again to a resurrection-backed, living hope of eternal blessing.
[node:bio/aaron-blumer body]
1368 reads