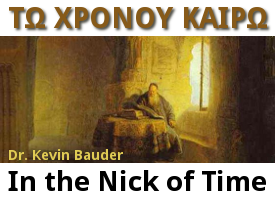 When you ask people, "Who are you?" they usually answer first by giving you their name. A name, however, is only a label. It does not reveal the identity of the person to whom it is attached.
If you persist, "Yes, that is your name, but who are you," then people invariably begin to give you answers grounded in their relationships to individuals, objects, and activities. They will identify themselves as the son or daughter of a particular person, or perhaps as the spouse of another. They will tell you about their job and their hobbies. They may identify themselves as fans of a particular sports team, followers of a particular author, or as devotees of a particular kind of music.
What all of these identifiers have in common is that they are external to the individual. People can say who they are only by pointing to things outside themselves. We know who we are only in terms of our relationships to other things, be they persons, activities, or objects.
In other words, our identity is not in ourselves. In order to know who we are, we must look outward. Our identity is formed by the persons, objects, and activities with which we bring ourselves into relationship.
God is not like that. God knows who He is, not by looking outward, but by looking inward. Nevertheless, God's identity is still relational. He knows who He is, not by His relationship to persons, objects, and activities within the created order, but by His relationship to Himself.
676 reads