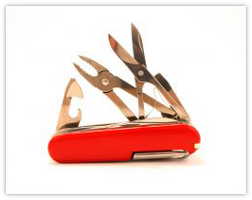 Aristotle introduces his Nicomachean Ethics with these words: "Every skill and every inquiry, and similarly every action and rational choice, is thought to aim at some good; and so the good has been aptly described as that at which everything aims."
While Aristotle identifies different intermediary goods on his way to his ultimate good (happiness), he underscores the importance of the question, "Good for what?" In Aristotle's view, we can't really define good until we understand at what goal the good aims. While his conclusion is problematic, his line of questioning is insightful.
Likewise, we can't answer the question "What are the essentials?" until we first answer the question, "Essential for what?" One popular website asserts that, "The Bible itself reveals what is important and essential to the Christian faith. These essentials are the deity of Christ, salvation by God's grace and not by works."
While this sounds like a helpful enough answer, I wonder upon what basis the writer identifies these doctrines over others as essential. Are these intermediary essentials or they ultimate essentials?
750 reads