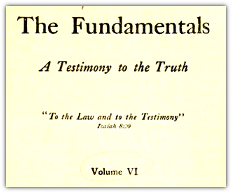 (About this series)
CHAPTER II: IS THERE A GOD?
BY REV. THOMAS WHITELAW, M. A., D. D., KILMARNOCK, SCOTLAND
Whether or not there is a supreme personal intelligence, infinite and eternal, omnipotent, omniscient and omnipresent, the Creator, upholder and ruler of the universe, immanent in and yet transcending all things, gracious and merciful, the Father and Redeemer of mankind, is surely the profoundest problem that can agitate the human mind. Lying as it does at the foundation of all man's religious beliefs—as to responsibility and duty, sin and salvation, immortality and future blessedness, as to the possibility of a revelation, of an incarnation, of a resurrection, as to the value of prayer, the credibility of miracle, the reality of providence,—with the reply given to it are bound up not alone the temporal and eternal happiness of the individual, but also the welfare and progress of the race. Nevertheless, to it have been returned the most varied responses.
The Atheist, for example, asserts that there is no God. The Agnostic professes that he cannot tell whether there is a God or not. The Materialist boasts that he does not need a God, that he can run the universe without one. The (Bible) Fool wishes there was no God. The Christian answers that he cannot do without a God.
I. THE ANSWER OF THE ATHEIST
"There is no God"
In these days it will hardly do to pass by this bold and confident negation by simply saying that the theoretical atheist is an altogether exceptional specimen of humanity, and that
843 reads