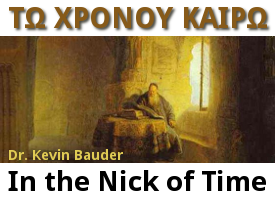 When answering theological questions, one of the thorniest problems that we face is deciding what counts as evidence. To be sure, we affirm the absolute authority and sufficiency of the Scriptures and, in the case of questions about the church, the finality of the New Testament in all matters of faith and order. Simply believing in the Bible's authority and sufficiency, however, does not tell us how the text ought to be brought to bear upon our questions.
One very common way of using the Bible is to look for examples of the kind of thing that we are asking about. These examples are then treated as permanently binding. Theological literature abounds with references to the examples or even the "uniform pattern" of Scripture.
The argument is a weak one. Scripture contains examples of all sorts of things, some good and some bad. The mere fact that someone did something is no indication that God wants that thing to be done by others at another time. Even when the example is viewed positively in the text, it may be an isolated instance. One would not appeal to Abraham's treatment of Isaac in Genesis 22 as a universal pattern for relationships between fathers and sons.
An "is" never constitutes an "ought." Sound theological method draws a sharp distinction between historical narrative and didactic requirement.
This distinction does not render the examples of Scripture irrelevant. When the Bible communicates a didactic principle, then we may legitimately observe the examples in the text to see how the principle looks in practice. By studying the examples we may also discover something about the rewards of obedience or the consequences of disobedience. By themselves, however, the examples of Scripture are not binding. Historical narrative always needs to be interpreted and applied by didactic discourse.
3194 reads