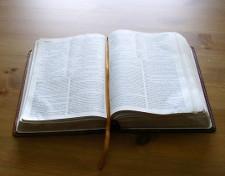 From Dispensational Publishing House; used by permission. Read the series so far.
Dispensationalism & the Literal Interpretation of the Bible, Part 2
A third component of the image of God in man is morality. This has to do with powers which inform one of right and wrong and enable him to act accordingly. A fourth aspect is spirituality. This is the capacity for fellowship with God, to understand and participate in spiritual things, the capacity for eternal life, and the like.
A last capacity in the image of God has to do with physical considerations.
There seems to be a physical dimension to the image of God since man did indeed have a body as a result of being created in the image of God (Gen. 2:7). One way of understanding this is in the sense that Adam's body anticipated Christ's body in the incarnation. God made Adam's body after the blueprint or pattern for the enfleshment He had determined for Christ. The triune God was incorporeal before the incarnation; all the persons of the Trinity were spirit beings. Physical factors regarding God at the time of creation were largely anticipatory. God, however, undoubtedly was a Christophany (a pre-incarnate appearance of Jesus Christ) when He walked daily in the garden (Gen. 3:8), and no doubt was also on Day Six when he made man's body "from the ground" (Gen. 2:7).
2197 reads