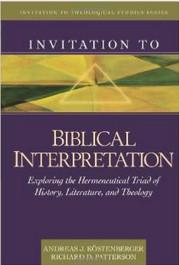 [amazon 082543047X details]
This large volume has already positioned itself as a premier textbook for hermeneutics for evangelicals. The authors; one an OT commentator, and one a NT commentator, have put a lot of thought into their production. The publisher has produced an attractive, well planned volume.
But why buy this book over others? The collaboration of Klein, Blomberg and Hubbard,Introduction to Biblical Interpretation (2nd ed.), covers all the main introductory issues. The Kaiser/Silva Introduction to Biblical Hermeneutics (2nd ed.), intriguingly allows digression between the authors. Bauer's Inductive Bible Study updates Traina's famous manual. I am partial to Zuck's Basic Bible Interpretation as a "safe" starter. And, of course, there are many others. So what does this book have going for it?
1705 reads