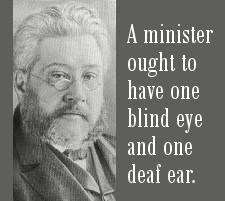 In the case of false reports against yourself, for the most part use the deaf ear.
Unfortunately liars are not yet extinct, and, like Richard Baxter and John Bunyan, you may be accused of crimes which your soul abhors. Be not staggered thereby, for this trial has befallen the very best of men, and even your Lord did not escape the envenomed tongue of falsehood. In almost all cases it is the wisest course to let such things die a natural death. A great lie, if unnoticed, is like a big fish out of water, it dashes and plunges and beats itself to death in a short time. To answer it is to supply it with its element and help it to a longer life.
Falsehoods usually carry their own refutation somewhere about them, and sting themselves to death. Some lies especially have a peculiar smell, which betrays their rottenness to every honest nose. If you are disturbed by them the object of their invention is partly answered, but your silent endurance disappoints malice and gives you a partial victory, which God in his care of you will soon turn into a complete deliverance. Your blameless life will be your best defense, and those who have seen it will not allow you to be condemned so readily as your slanderers expect. Only abstain from fighting your own battles, and in nine cases out of ten your accusers will gain nothing by their malevolence but chagrin for themselves and contempt from others.
3665 reads