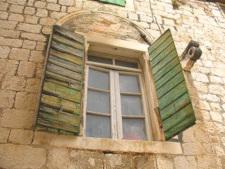 Third Series of Lectures to My Students
The Art of Illustration: Being Addresses Delivered ot the students of The Pastor's College, Metropolitan Tabernacle
By C. H. Spurgeon, 1905
Lecture 1: Illustrations in Preaching [Continued. Read the series.]
It may be well to note that illustrations should not be too prominent, or, to pursue our figure, they should not be painted windows, attracting attention to themselves rather than letting in the clear light of day. I am not pronouncing any judgment upon windows adorned with "glass of various colors which shine like meadows decked in the flowers of spring"; I am looking only to my illustration.
Our figures are meant not so much to be seen as to be seen through. If you take the hearer's mind away from the subject by exciting his admiration of your own skill in imagery, you are doing evil rather than good. I saw in one of our exhibitions a portrait of a king; but the artist had surrounded his majesty with a bower of flowers so exquisitely painted that everyone's eye was taken away from the royal figure. All the resources of the painter's art had been lavished upon the accessories, and the result was that the portrait, which should have been all in all, had fallen into a secondary place.
This was surely an error in portrait-painting, even though it might be a success in art. We have to set forth Christ before the people, "evidently crucified among them," and the loveliest emblem or the most charming image which calls the mind away from our divine subject is to be conscientiously foresworn. Jesus must be all in all: his gospel must be the beginning and end of all our discoursing; parable and poesy must be under his feet, and eloquence must wait upon him as his servant. Never by any possibility must the minister's speech become a rival to his subject; that were to dishonor Christ, and not to glorify him. Hence the caution that the illustrations be not too conspicuous.
Out of this last observation comes the further remark that; illustrations are best when they are natural, and grow out of the subject. They should be like those well-arranged windows which are evidently part of the plan of a structure, and not inserted as an afterthought, or for mere adornment.
The cathedral of Milan inspires my mind with extreme admiration; it always appears to me as if it must have grown out of the earth like a colossal tree or rather like a forest of marble. From its base to its loftiest pinnacle every detail is a natural outgrowth, a portion of a well developed whole, essential to the main idea; indeed, part and parcel of it. Such should a sermon be; its exordium, divisions, arguments, appeals, and metaphors should all spring out of itself; nothing should be out of living relation to the rest; it should seem as if nothing could be added without being an excrescence, and nothing taken away without inflicting damage.
There should be flowers in a sermon, but the bulk of them should be the flowers of the soil; not dainty exotics, evidently imported with much care from a distant land, but the natural upspringing of a life natural to the holy ground on which the preacher stands. Figures of speech should be congruous with the matter of the discourse; a rose upon an oak would be out of place, and a lily springing from a poplar would be unnatural: everything should be of a piece and have a manifest relationship to the rest.
Occasionally a little barbaric splendor may be allowed after the manner of Thomas Adams and Jeremy Taylor and other masters in Israel, who adorn truth with rare gems, and gold of Ophir, fetched from far. Yet I would have you note what Dr. Hamilton says of Taylor, for it is a warning to those who aim at winning the ear of the multitude.
"Thoughts, epithets, incidents, images came trooping round with irrepressible profusion, and they were all so apt and beautiful, that it was hard to send any of them away. And so he tried to find a place and use for all, — for 'flowers and wings of butterflies,' as well as 'wheat;' — and if he could not fabricate links of his logical chain out of 'the little rings of the vine,' and 'the locks of a new-weaned boy,' he could at least decorate his subject with exquisite adornments.

The passages from his loved Austin and Chrysostom, and not less beloved Seneca and Plutarch, the scholar knows how to pardon. The squirrel is not more tempted to carry nuts to his hoard than the bookish author is tempted to transfer to his own pages fine passages from his favorite authors.

Alas! he little knows how flat and meaningless they are to those who have not traversed the same walks, and shared the delight with which he found great spoil. To him each polished shell recalls its autumnal tale of woods, and groves, and sunshine showering through the yellow leaves; but to the quaint collection 'the general public' very much prefer a pint of filberts from a huckster's barrow."
No illustrations are half so telling as those which are taken from familiar objects. Many fair flowers grow in foreign lands; but those are dearest to the heart which bloom at our own cottage door.
1683 reads