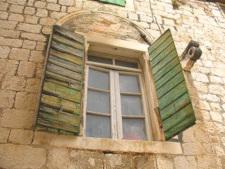 Third Series of Lectures to My Students
The Art of Illustration: Being Addresses Delivered ot the students of The Pastor's College, Metropolitan Tabernacle
By C. H. Spurgeon, 1905
Lecture 1: Illustrations in Preaching [Continued. Read the series.]
Illustrations tend to enliven an audience and quicken attentions. Windows, when they will open, which, alas, is not often the case in our places of worship, are a great blessing by refreshing and reviving the audience with a little pure air, and arousing the poor mortals who are rendered sleepy by the stagnant atmosphere. A window should, according to its name, be a wind-door, through which a breath of air may visit the audience; even so, an original figure, a noble image, a quaint comparison, a rich allegory, should open upon our hearers a breeze of happy thought, which will pass over them like life-giving breath, arousing them from their apathy, and quickening their faculties to receive the truth.
Those who are accustomed to the soporific sermonizings of certain dignified divines would marvel greatly if they could see the enthusiasm and lively delight with which congregations listen to speech through which there flows a quiet current of happy, natural illustration. Arid as a desert are many volumes of discourses which are to be met with upon the booksellers' dust-covered shelves; but if in the course of a thousand paragraphs they contain a single simile, it is as an oasis in the Sahara, and serves to keep the reader's soul alive.
In fashioning a discourse think little of the bookworm, which will be sure of its portion of meat however dry your doctrine, but have pity upon those hungering ones immediately around you who must find life through your sermon or they will never find it at all. If some of your hearers sleep on they will of necessity wake up in eternal perdition, for they hear no other helpful voice.
While we thus commend illustrations for necessary uses, it must be remembered that they are not the strength of a sermon any more than a window is the strength of a house; and for this reason, among others, they should not be too numerous. Too many openings for light may seriously detract from the stability of a building. We have known sermons so full of metaphors that they became weak, and we had almost said crazy, structures.
Sermons must not be nosegays of flowers, but sheaves of wheat. Very beautiful sermons are generally very useless ones. To aim at elegance is to court failure. It is possible to have too much of a good thing: a glass house is not the most comfortable of abodes, and besides other objectionable qualities it has the great fault of being sadly tempting to stone-throwers. When a critical adversary attacks our metaphors he generally makes short work of them. To friendly minds images are arguments, but to opponents they are opportunities for attack; the enemy climbs up by the window.
Comparisons are swords with two edges which cut both ways; and frequently what seems a sharp and telling illustration may be wittily turned against you, so as to cause a laugh at your expense: therefore do not rely upon your metaphors and parables. Even a second-rate man may defend himself from a superior mind if he can dexterously turn his assailant's gun upon himself.
Here is an instance which concerns myself, and I give it for that reason, since these lectures have all along been autobiographical. I give a cutting from one of our religious papers. "Mr. Beecher has been neatly tripped up in 'The Sword and the Trowel.' In his 'Lectures on Preaching' he asserts that Mr. Spurgeon has succeeded 'in spite of his Calvinism;' adding the remark that 'the camel does not travel any better, nor is it any more useful, because of the hump on its back.'
The illustration is not a felicitous one, for Mr. Spurgeon thus retorts: — 'Naturalists assure us the camel's hump is of great importance in the eyes of the Arabs, who judge of the condition of their beasts by the size, shape, and firmness of their humps. The camel feeds upon his hump when he traverses the wilderness, so that in proportion as the animal travels over the sandy wastes, and suffers from privation and fatigue, the mass diminishes; and he is not fit for a long journey till the hump has regained its proportions. Calvinism, then, is the spiritual meat which enables a man to labor on in the ways of Christian service; and, though ridiculed as a hump by those who are only lookers-on, those who traverse the weary paths of a wilderness experience know too well its value to be willing to part with it, even if a Beecher's splendid talents could be given in exchange.'"
1602 reads