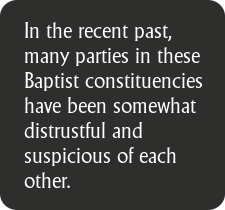 In September, Central Seminary (Plymouth, MN) is hosting an unusual event: a conversation among Baptist leaders with greater unity across splinter groups as a major goal. I asked pastor Greg Linscott, who has led the effort, to tell us more about this conversation.
Q. How did this event come about?
A. A few years ago I began to sense the need for First Baptist of Marshall to become connected with a network more national in scope than our longtime historic affiliation with the Minnesota Baptist Association. Our church has established a ministry with S'gaw Karen refugees from Burma/Myanmar. Because of their missionary connections dating all the way back to Adoniram Judson, the Karen tend to default to the ABC-USA when here in the US. But due to significant differences in doctrine and practice, I did not find that an acceptable option.
As we worked to disciple the believers we had influenced, we wanted to be able to familiarize them with churches whose doctrine would emphasize the authority of Scripture and who would be in general agreement with we teach at First Baptist (including specifics such as a young-earth creationist perspective, cessationist position, and pre-trib dispensationalism) but who also had a large enough network nationally that it would be practical to point Karen believers there as they eventually begin to relocate across the US. The GARBC fit those criteria.
16701 reads