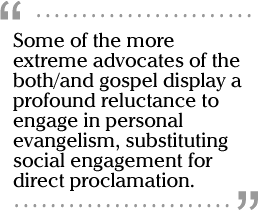 Editor's Note: This article accompanies FBFI Resolution 09-01.
The word evangel means gospel. Therefore, to be evangelical is to be defined by the gospel. At minimum, those who claim to be Evangelicals should have a very clear idea of what the gospel is.
Within today's Evangelicalism, however, the content of the gospel is the subject of significant disagreement. Many contemporary Evangelicals are attempting to create an understanding of the gospel that is much more inclusive than the message of personal salvation. While these Evangelicals do not always deny a personal gospel (and some are fervently committed to it), they think that the gospel must also deal with other issues, including problems of a psychological, social, and environmental nature. What they proclaim is neither simply a personal gospel nor a social gospel. It is a both/and gospel.
The basic argument for the both/and gospel is that sin has done more than to disrupt our personal relationship with God. It has disrupted the inner integrity of each individual, resulting in the disintegration of emotional wholeness. It has disrupted the relationship between humans, resulting in oppression and exploitation. It has disrupted our relationship to the created order, resulting in the ruination of nature through human abuse. According to proponents of the both/and gospel, a meaningful gospel must address each of these issues directly.
2217 reads