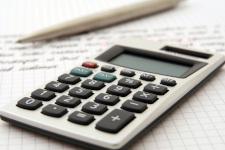 Read the series.
My wife was in pre-op for delicate tear duct surgery this past Monday. Two surgeons were involved: an otorhinolaryngologist and an ophthalmologist. The younger of the two, the ENT doctor marked Kathee's left eye – it's this one. In walked the older of the two1 who announced, "I'm not a surgeon, but I did sleep in a Holiday Inn Express last night."2 Well, he really is a surgeon and I'm not an accountant and I haven't slept in Holiday Inn Express in years! But I am resolved to follow GAAP3 and EFCA standards on financial reporting:
ECFA Standard 3 - Financial Oversight:

Every organization shall prepare complete and accurate financial statements. …

The financial statements (and the disclosure of the financial statements) are key components of transparency, both within the ministry and to donors and the public. This flows directly from biblical principles: "This is the verdict: Light has come into the world, but men loved darkness instead of light because their deeds were evil. Everyone who does evil hates the light, and will not come into the light for fear that his deeds will be exposed" (John 3:19–20 NIV).
1992 reads