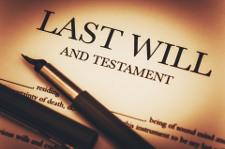 The Christian is called to a life of stewardship. All of one's life, all of one's talents, all of one's time and all of one's material things come from and belong to God. It is both prudent and biblical to plan for one's future.
As one who has received difficult medical news—"I'm sorry to say this, but you have cancer"—I identify with Hezekiah:
In those days Hezekiah was sick and near death. And Isaiah the prophet, the son of Amoz, went to him and said to him, "Thus says the Lord: 'Set your house in order, for you shall die, and not live.'" Then he turned his face toward the wall, and prayed to the Lord, saying, "Remember now, O Lord, I pray, how I have walked before You in truth and with a loyal heart, and have done what was good in Your sight." And Hezekiah wept bitterly. (2 Kings 20:1-3)
"Set your house in order": Final affair planning is just this—setting one's house in order!
7249 reads