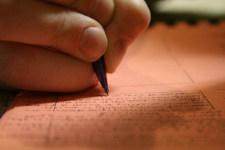 Studying Scripture is essential for every Christian family, but the Christian homeschooling family often asks, "How do I teach Bible class in my homeschool?"
Like most homeschool families, we immediately started searching for a Bible curriculum. An organized program is like a security blanket. It makes us feel as though all bases will be covered, and there will be no knowledge gaps. Teaching involves little to no elbow grease, as lesson plans are already laid out. We have confidence someone with expertise has chosen this material for a specific reason, and approved it for publishing. After all, how many of us homeschooling parents are theologians or curriculum publishers?
As we searched for Bible curriculum, we found discrepancies between what we believe to be Scriptural and what the curriculum was teaching. Many were shallow, or had an obvious gimmick. The emphasis was sometimes inconsistent with our values and priorities. The format and illustrations were often too cartoonish or too trite, and some felt disrespectful.
3660 reads