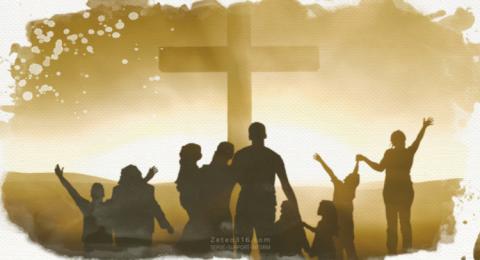 Where Must Faith Always Look? I'm sure we all know that the answer is Christ – at least we ought to! I know, but I'm afraid I don't always live it. I need constant reminders. So this isn't me sermonizing (I'm unqualified); it's a confession of my failing, and a passing on of a message from someone else…
That someone else is Ian Hamilton. The message comes from his little book The Faith Shaped Life. In the Chapter Where Faith Always Looks, Hamilton tells us that he has never been in the habit of making New Year resolutions. But he then recounts why he broke the habit of not making a resolution.
The reason he broke his habit was that he'd been reading through the Letter to the Hebrews. Hamilton noted that it was a "fascinating," "sobering," "and richly encouraging read." The Hebrew Christians had come under the influence of false teaching and were pressured to "give up on Christ and return to Judaism."
Hamilton writes that, "They had become 'dull of hearing' (Heb. 5:11)." They had slowly become spiritually deaf. They allowed the (significant) pressures of life to "de-centre Jesus in their lives" and "he was no longer the chief object of their faith and the first call upon their love." The writer admonishes them to consider Christ (Heb 3:1, 12:2-3)!
This is a human condition I must contend with on a daily basis. It's a daily struggle for me. And I bet I'm not alone.
Hamilton notes:
1441 reads