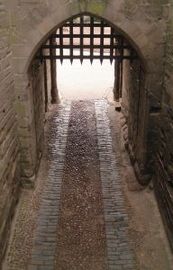 The army of an evil duke storms the castle gates of an ancient kingdom. With murderous zeal the raiders pillage and torch the city. Amidst the mayhem, the infant son of the kind and noble king is captured and transported to the duke's castle where the boy is enslaved to the sadistic warden of the dungeon.
From his earliest memories the captive prince is abused. As time passes he knows only the life of a tortured slave whose days are spent toiling in the dank confines of the dungeon. He is denied proper food, shelter and clothing. He is never permitted to bathe. He sleeps on a thin pile of vermin-infested straw, his ankle shackled to a post.
The prisoners he attends verbally abuse him. The warden routinely flogs him and with sadistic glee poisons the boy's mind to believe that all his troubles are directly traceable to the dominion of the king. Under these horrific conditions the prince's soul shrivels and becomes a dark haunt breeding many vices.
Early one winter morning, the boy is startled awake by shouts of panic. The king has mounted a successful attack against the traitorous duke's castle. After the duke's army is subdued, all the boys of a certain age-range are lined up against a castle wall. The prince, with no idea who he really is, stands in the frigid air shaking, virtually naked, and filled with loathing for the conquering king. The boy is covered from head to toe in grime. His long hair is matted and snarled. His nails are grotesquely long, his lips cracked, his feet bleeding. He nurses infected wounds. He is emaciated and unspeakably repulsive.
Working his way down the line of boys, an armored knight eventually arrives at the prince. The knight grabs the boy's grimy wrist and carefully inspects his forearm where is revealed a distinctive birth mark. With thunderous voice, the knight turns and announces: "Here he is, your Highness!" To the boy's utter astonishment, the king's soldiers immediately drop to one knee, bowing their heads toward him in homage. The regal king who watches the proceedings intently from atop his steed dismounts and swiftly approaches. The boy cowers against the wall, instinctively bracing for the worst. But to his further bewilderment, the king he so despises does not raise his hand to strike, but stands before him with open arms. Tears fill the strong man's searching eyes. A look of tender compassion graces his rugged face such as the boy has never witnessed. Suddenly, the king embraces the boy and with a strong hand pulls the prince's head to his chest and speaks lovingly into his ear: "I have at last found you, my dear lost son. Welcome home."
1368 reads