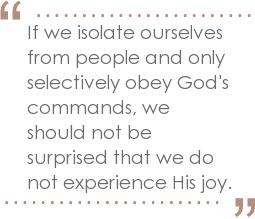 We are into the thick of the baseball season; teams compete in their divisions. Some will meet expectations, some will exceed them, while others will disappoint. We are used to competition in sports, business, and even regarding military preparedness.
We rarely think of virtues as competing with one another; instead, we prefer to think of them as complementing one another. Paul lists the three great virtues, "faith, hope and love" in 1 Corinthians 13:13, yet he informs us that "love" is the greatest of the three. This does not mean that faith, hope, and love are mutually exclusive. They work together.
Two books of the Bible are devoted to the virtue of wisdom: Proverbs and Ecclesiastes. How can anyone underestimate the importance of wisdom in light of this? The fruit of the Spirit (Gal.5:22-23) and the armor of God (Eph. 6:14-18) are two more examples of the many "virtue lists" found in God's Word.
With all these virtue lists floating around, we can end up dizzy. What do I pursue: love, faith, holiness, graciousness, zeal, knowledge, joy, peace, goodness, gentleness, or self-control? The answer is "yes." These attributes are complementary, but they can be examined individually. After examining them, we need to integrate them into the whole package of who we are. In a sense, being a balanced Christian means being a complete Christian; we attain balance by including all these virtues and excluding none. None of us attains this perfect balance; indeed, we probably cannot even agree as to what that perfect balance should be.
1406 reads