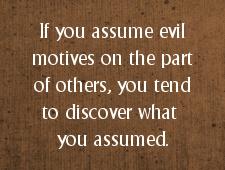 The term "good will" is one I love. Webster defines good will as "a friendly or kindly attitude; benevolence" or "cheerful consent; willingness." It is an important term, one that can affect our entire disposition and approach toward life.
The fictitious King Midas had a magical touch that turned everything to gold. Believers do not have a "Midas Touch," but exuding good will comes close. I have seen good will on the part of one marital partner literally save a marriage. I have seen Christians take giant spiritual leaps ahead because someone believed in them, expressing good will. Few of us realize the untapped power available to them when we have an attitude of good will. Embracing good will makes us a blessing to others.
I think of good will as a positive attitude that expects the best from others, sometimes despite previous disappointments. It is wishing well to another, hoping things will prosper for that person, or giving that person a fresh chance to deliver the goods. It is certainly foolish to trust someone who has proven inconsistent or obstinate; good will is not for every situation, but it is for most.
955 reads