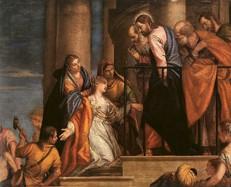 This is a series about the Trinity. It explores this doctrine by brief expositions of different passages from throughout the Gospel of Mark, showing how the Trinity is the explicit and implicit teaching and assumption of Scripture.
I'm a regulatory fraud investigator for a state agency. Before that, I was a criminal investigator with the U.S. Naval Security Forces. I carry credentials which tell people who I am. Jesus had credentials, too. They proved who He is and where He comes from.
My credentials are a piece of state-issued plastic. Jesus' credentials are His miracles. They show He is co-equal with God, "for no one can do these signs that you do, unless God is with him," (John 3:2). And, as I forge ahead in my series on Jesus and the Trinity, the two miracles in our passage help establish this.
And when Jesus had crossed again in the boat to the other side, a great crowd gathered about him; and he was beside the sea. Then came one of the rulers of the synagogue, Jairus by name; and seeing him, he fell at his feet, and besought him, saying, "My little daughter is at the point of death. Come and lay your hands on her, so that she may be made well, and live." And he went with him (Mark 5:21-24a).
2326 reads