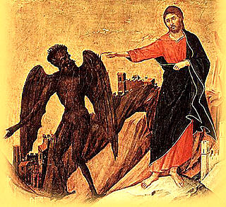 The Accusation
The Pharisees charge Jesus with being demon-possessed, a tool of Satan (Mk 3:22). Mark doesn't tell us what prompted this confrontation. The Lord left that up to Matthew, who tells us Jesus had just conducted an exorcism on a demoniac, who was blind and could not speak.
And all the people were amazed, and said, "Can this be the Son of David?" But when the Pharisees heard it they said, "It is only by Beelzebul, the prince of demons, that this man casts out demons." (Mt 12:22)
Why did Mark not give us this background? Each writer has his own reasons for omitting or including certain excerpts. Mark isn't interested in providing full context. His emphasis is on Jesus' increasing isolation as the opposition against Him grows at a rapid-fire pace.
744 reads