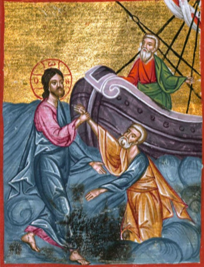 The interesting thing about the Gospel of Mark is that Jesus doesn't tell us (over and over again) He's the Messiah; He proves it by His actions.1 This passage (Mk 6:45-52) is full of trinitarian implications. It follows right on the heels of the feeding of the 5,000 ("for they did not understand about the loaves," Mk 6:52), and it can't be rightly understood without that connection.
Jesus' Prayer
Alarmed at the crowd's blasphemous intentions to make Him a dime-store King (Jn 6:15), Jesus "immediately made his disciples get into the boat and go before him to the other side," (Mk 6:45).
Commentators are divided about why He "went into the hills to pray," (Mk 6:46). Some suspect He prayed that the disciples wouldn't be seduced by these wrong Messianic ideas;2 a notion some scholars reject.3 Others think He prayed the disciples would have a safe voyage.4 If that was His intent, then God surely didn't listen! Some think Jesus prayed for Himself, that He wouldn't yield to the temptation to take a shortcut to His Kingdom and bypass Calvary.5 Options one and three are the most likely.
1197 reads