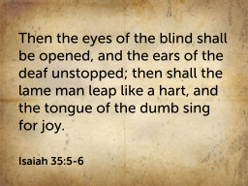 The New Testament is soaked in the glorious experiences and expectations of the Old Covenant scriptures. This is clear in Mark 7:31-37, where the entire passage hinges on understanding the miracle account in the context of the Old Covenant promises.
The prophets often warned Israelites to turn from their sins and return to serve Him with their whole hearts. Yet, Yahweh knew many wouldn't listen; "they are a rebellious people, lying sons, sons who will not hear the instruction of the LORD," (Isa 30:9). God often juxtaposed these warnings of certain judgment for rebellion with promises of His future blessing, despite their wickedness. Here, I'll briefly journey from Isaiah 32:1 – 35:10, to provide Messianic context for the miracle account from the Gospel of Mark (7:31 – 37). This context will help us appreciate the trinitarian implications of Jesus' actions.
A Vision of the Kingdom
Isaiah promised, "a king will reign in righteousness, and princes will rule in justice," (Isa 32:1). These leaders, particularly the king, would be a true shelter in the time of storm for the Israelites (Isa 32:2). Eyes and ears will be opened (Isa 32:3-4), and the upside down moral value judgments of corrupt men will finally be set right; "the fool will no more be called noble, nor the knave said to be honorable," (Isa 32:5).
2810 reads