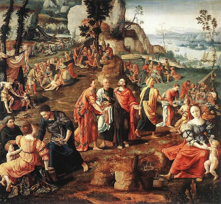 After he fed the 5000, why did Jesus make the disciples leave the area so abruptly?
Why the Hasty Retreat?
Mark tells us, "immediately he made his disciples get into the boat and go before Him to the other side, to Bethsaida, while he dismissed the crowd," (Mk 6:45). Mark doesn't tell us why, and neither does Matthew (14:22-23). However, John does give us some insight:
When the people saw the sign which he had done, they said, "This is indeed the prophet who is to come into the world!" (Jn 6:14).
At least some people connected the dots, and understood the significance of what had happened. Jesus is the true shepherd of Israel (Mk 6:34). Because the nominal Jewish political leader in this region had abdicated his responsibilities (cf. Mk 6:14-29), Jesus stepped in to fill the gap "and he began to teach them many things," (Mk 6:34). He also "healed their sick," (Mt 14:14) and "spoke to them of the kingdom of God," (Lk 9:11). Likewise, their religious leaders were apostates who'd fenced the law so much they'd lost all sight of it, and had perverted the grace of the Old Covenant into a system of works righteousness (cf. Mk 7:1-13).
978 reads