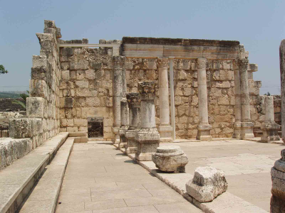 Read the series so far.
By anybody's standard, Jesus had a very busy day (Mk 1:21-38). This passage chronicles one single day during Jesus' early ministry. At first glance, there seems to be nothing earth-shattering here, until you step back and consider all He did during those 24 hours.1 
Consider the common objections to the doctrine of the Trinity, then remember the kind of day Jesus had:
I believe the doctrine of the Trinity can and should be proven by appeal to the Gospels themselves, not simply proof texts (e.g. Jn 1:1; 1 Jn 5:7-8, etc.). There is nothing inherently earth-shattering in "Jesus' Very Busy Day," is there? Will this passage ever appear in any normal discussion on the Trinity? Probably not. But I ask—why not!?
Just in this passage, from the table above, you have Jesus (1) demonstrating His divinity and equality with the Father many times, and (2) showing His distinction from the Father twice. Christians can and should be taught to see the beauty of our Triune God in the ordinary narrative of the Gospels. Scripture is saturated with it. We just need to look.
Meanwhile, Back at the Synagogue in Capernaum …
We left off last time with the exorcism in the Capernaum synagogue. How does the crowd react?
And they were all amazed, so that they questioned among themselves, saying, "What is this? A new teaching! With authority he commands even the unclean spirits, and they obey him." (Mk 1:27)
There were no spells. No incantations. No silliness. Not even any effort. Jesus simply "rebuked him" (Mk 1:25). Exorcisms happen so often in the Gospel that we may be tempted to overlook their significance. Do not forget this:
Demons are fallen angels.
Angels are the highest beings in the created order.
Jesus has dominion over these fallen angels.
Therefore Jesus must be above the highest beings in the created order.
This implies Jesus is divine and explains His dominion over the fallen angels.
The New Testament confirms this (cf. Heb 1-2; Col 1:12-20).
The worshippers in the synagogue were amazed because Jesus' authority was qualitatively different from anything they had ever seen (cf. 1:22). Jesus had authority. He had a divine sense of purpose. He preached with fervor, "and they were astonished" (Mk 1:22). He had easy command over the very forces of darkness. He had command. "Here was a teaching qualitatively new in the authority with which it laid hold of men. And the people were alarmed."2
Every miracle Jesus performs is in the context of His being Messiah and the Son of God (Mk 1:1), and all the theological freight these titles carry with them explain how He can do what He does.
Peter's Mother-in-Law is Healed
This single exorcism lit a figurative fire which quickly "spread everywhere throughout all the surrounding region of Galilee" (Mk 1:28). Immediately, Jesus and several of the disciples left the synagogue and entered Peter's house, which was evidently very close by—perhaps even as close as 84 feet!3 Once at the residence, those inside told Jesus about Peter's mother-in-law. The Scripture does not tell us what, precisely, was wrong with her. We do know she was terribly ill.
And he came and took her by the hand and lifted her up, and the fever left her; and she served them. (Mk 1:31)
She "served them," which likely meant she prepared food. This healing was instantaneous. She was very ill, then she was not. It happened in an instant, in a flash. There was a miraculous transition from feeble illness to perfect health. Here, in a small yet significant way, Jesus demonstrated His mastery and control over the curse of sin by healing a woman from what may have been a simple cold.
Jesus, the Unhappy Miracle-Worker
Now the game was afoot. The small fire which had been kindled in the synagogue that morning morphed into a minor inferno by sundown.
That evening, at sundown, they brought to him all who were sick or possessed with demons. And the whole city was gathered together about the door. (Mk 1:32-33)
Jesus went about preaching the Good News (cf. Mk 1:14-15). The miracles and exorcisms were designed to accompany and accredit His message. They were not intended to be the message itself. Yet, "the whole city" did not come to hear the news that the promised Messiah had arrived. They came to see a carnival worker. They came to see a miracle man. They came for the show.
And he healed many who were sick with various diseases, and cast out many demons; and he would not permit the demons to speak, because they knew him. (Mk 1:34).
Jesus healed many. He conducted many exorcisms. We've seen this before. Now, we have another wrinkle we've seen before, too—"he would not permit the demons to speak, because they knew him."
He has power to silence the fallen angels as He casts them out. Jesus knows they "know Him." They know He knows. And He knows they know that He knows. As one other demon cried out earlier that very morning; "What have you to do with us, Jesus of Nazareth? Have you come to destroy us? I know who you are, the Holy One of God!" (Mk 1:24). Now you know, too.
Jesus Prays … to Whom?
And in the morning, a great while before day, he rose and went out to a lonely place, and there he prayed. (Mk 1:35)
Who does Jesus pray to? He prays to somebody, right? If one person prays to another, this indicates a plurality. It means two people are involved. Jesus, who has already demonstrated His divinity and equality with God many times this day, rises up early and goes out alone to pray—demonstrating a distinction between Divine Persons.
Why does He pray?4 He prays because Israel does not understand. He is not a trick pony or a miracle man—He is the Messiah. His message of the Good News of the Kingdom has been ignored, and His power is seen only as a very convenient solution for physical ailments. "They do not understand that this popular and shallow conception of him was the very reason he withdrew to pray."5
The tragic irony is that the people did recognize His divine power, but they were unwilling to acknowledge what this divine power meant.
If Jesus preached He was the Messiah (and He did),
and if Jesus preached He had come to fulfill all the covenant promises to Israel (and He did—cf. Lk 4:16-21; Isa 60:1-2)
and if Jesus demonstrated and accredited His claims with miracles and exorcisms only God could do (and He did)
then what conclusion should a thinking Israelite draw from all this?
Perhaps … that Jesus actually was the Messiah? They did not do this. The Israelites did not care that the Spirit of the Lord was upon Jesus. They did not care about the Good News He preached to the poor. They did not care about the proclamation of release to the captives, the recovering of sight to the spiritually blind, the liberty and release of those who were oppressed, or the jubilee year of their own release from slavery to Satan (cf. Lk 4:16-21). They heard the content of Jesus' preaching and dismissed it. They saw the miracles and craved more.6
It seems Peter is almost accusatory when he finds Christ. "Everybody is seeking you!" Jesus is not interested in a superficial response. He announces they will press on. What does He seek to do in the other towns? He seeks to preach, "for that is why I came out" (Mk 1:38). Jesus came to proclaim a message. That message was being ignored in Capernaum. That means it's time to go.
So What?
Jesus did have a very busy day. He healed sickness. He cast out demons. He prayed to the Father. He forbade demons to reveal who He is. This is so commonplace in the Gospels we may be tempted to breeze past all this. Yet, we must realize each time Jesus does this in the Gospels, it is one more demonstration of God's tri-unity.
The Father is in heaven.
His Son, the promised Messiah, is on earth. He prays to the Father. There is a clear distinction between them.
Even more, the Scriptures say the Son (who is already distinct from the Father) actually created creation itself (Heb 1:1-4; Col 1:15-20). This demonstrates Christ is eternal—He has no beginning and will have no end
Yet, Jesus goes about doing things only God can do.
How do we make sense of all this? The doctrine of the Trinity.
12381 reads