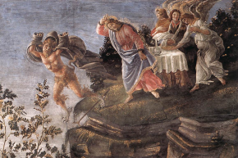 Read the series so far.
The Christ has been commissioned and anointed with power from the Spirit. His ministry has begun. Immediately, He enters into single combat with His own creation, the chief of all angels, Satan. As His ministry begins, we'll examine two passages which shed light on Christ and the doctrine of the Trinity.
Jesus and Satan in the Wilderness (Mark 1:12-13)
The Spirit immediately drove him into the wilderness. He was in the wilderness forty days, enduring temptations from Satan. He was with wild animals, and angels were ministering to his needs (Mark 1:12-13).
Mark tells us the Spirit drove Jesus out into the wilderness "immediately" after His baptism. "Immediately" is one of Mark's favorite terms,1 and in this context it means Jesus left for the desert regions straightaway. He was cast or driven into the wilderness.2 Some commentators quibble about whether Jesus was really "driven" into the wilderness, as if He was reluctant to go.3 The idea is simply that the Spirit impelled and motivated the Son to go and begin the divine work He had just been anointed and appointed for. Propelled by this overwhelming sense of mission, the Son went.4
Consider the doctrine of the Trinity in conjunction with this passage. Here is our working definition:
Within the one Being that is God, there exists eternally three co-equal and co-eternal persons, namely, the Father, the Son and the Holy Spirit.5
Consider what this doctrine means each person:
is fully and completely divine,6
has always been co-equal,7
has been around forever,8
is, in some way, distinct from the others, and yet,
is, in some way, one with the others.9
Now, think about this passage (Mk 1:12-13). Heresies about Jesus often fall into two ditches. Non-Christian groups often take hold of the true statement from the book of Deuteronomy—"Listen, Israel: The LORD is our God, the LORD is one!" (Deut 6:4)—and assume a unitarian monotheism. Then, in an effort to uphold a unitarian concept of God, they either:
deliberately down-play biblical data about Jesus' divinity and make Him a creation of God (e.g. Arians), or
collapse the real distinction between divine persons and speak of Jesus as a manifestation or role which God played for a time (e.g. Oneness Pentecostals).
What do we see here in our passage? We see the Spirit driving Jesus into the wilderness.
Καὶ εὐθὺς τὸ πνεῦμα αὐτὸν ἐκβάλλει εἰς τὴν ἔρημον
And immediately the Spirit drove Him into the wilderness
We see two persons, one acting upon another. The Spirit is the subject and the actor who drives Jesus into the desert. Jesus is the one who receives this action and is compelled to go forth. It is this same Spirit which Jesus will receive power from the Father to dispense to the believers at Pentecost in a dramatically public and miraculous way (Acts 2:33). It is this same Spirit with which Jesus baptizes all His New Covenant children (Mk 1:8), the Gentiles now and the Israelites upon His return. It is clear that Mark understands Son and Spirit to be different individuals.10
Jesus & the Fallen Angel (Mark 1:21-28)
Demons are not afraid of me. They are not afraid of you. They are not even afraid of God's chief angels. Daniel records an account where an angel apologized to the prophet for coming so late with an answer to his prayer (Dan 10:12-13). The angel was delayed three weeks by "the prince of the kingdom of Persia," who is generally acknowledged to be a fallen angel.11 Daniel's messenger was forced to call in a chief angel, Michael, for help, and together they prevailed in this supernatural battle.
How interesting it is, then, when we read about a fallen angel literally recoiling in abject terror before Jesus of Nazareth. What does this tell us about Him? Is Jesus simply a "good man" with some remarkable powers? Is He a created being? The evidence tells us Jesus is both (a) divine and equal to the Father and (b) distinct from Him, too.
Messiah traveled to Capernaum. He began to teach in the local synagogue on the Sabbath. The people were amazed at His teaching "because he taught them like one who had authority, not like the experts in the law" (Mk 1:22). This means Jesus simply expounded the Scriptures. He did not recite an endless catalog of competing rabbinic interpretations—read the Mishnah sometime and see what this looks like! No, He simply taught God's Word from the Hebrew Bible.
This was too much for the demon-possessed man:
Just then there was a man in their synagogue with an unclean spirit, and he cried out, "Leave us alone, Jesus the Nazarene! Have you come to destroy us? I know who you are—the Holy One of God!" (Mark 1:23-24)
One wonders why this demon had not protested during services before Jesus came to town! The man is the one who spoke, but he was being controlled and influenced by the fallen angel. Consider what he says:
The Demons Are Frightened
He cries out for Jesus to leave "us" alone. There are presumably several demons inhabiting this poor man.12 There is no passage of Scripture where demons are frightened by anybody or anything except God. Remember what happened to the seven sons of Sceva, those vagabond Jewish "exorcists" who attempted to command and cast out demons—they were attacked and beaten senseless by those possessed (Acts 19:13-16).
The Demons Fear Destruction
You only fear destruction if the one you fear is stronger than yourself. This is simple logic. I once arrested two Sailors in downtown Catania, Sicily who were monstrous in size. Massive. One was 6'10" and the other was 7'0." I'm 6'5" and my partner was 5'8." I felt sure we were doomed. If they had decided to resist, we would have been destroyed.
These demons feared Jesus. More than that, they acknowledged and understood His power and authority. Even though Messiah had deliberately veiled His glory, honor, and power in sinful flesh and had stripped Himself, as it were, of all insignia of majesty, they knew their Creator when they saw Him. Therefore they are terrified.
The Demons Acknowledge Jesus for Who He Is
They call Jesus "God's Holy One." They do not say Jesus is God. They acknowledge He is distinct from God, but still Holy. Jesus is on a level all His own. He is divine and equal to the Father, yet He is also distinct from Him. Even the demons acknowledge this. There is absolutely nothing above angels in the hierarchy of creation. Jesus, however, is above creation. He created creation. He created the angels. Some commentators speculate that, by invoking His name, the demons were attempting to exercise power over Jesus.13 Whether this is true or not, it is enough to realize that the demons acknowledge who Jesus is—He is "God's Holy One."
What happens next is even more interesting. Jesus rebuked the demons (Mk 1:25). It once took two angels three weeks to overcome a fallen angel (Dan 10:12-13). Even the Chief Angel, Michael, did not dare to bring a disrespectful judgment against Satan (Jude 9). Yet Messiah, with a few simple words, rebuked and censured these demons and then issued a command which they were powerless to resist.
After throwing him into convulsions, the unclean spirit cried out with a loud voice and came out of him (Mark 1:26).
The crowd in the synagogue is amazed. "So the news about him spread quickly throughout all the region around Galilee" (Mark 1:28). Messiah has come. Satan is losing. God wins.
In our brief survey of two passages, we have seen that:
Jesus is distinct from the Spirit, because He was driven and cast into the wilderness by the Spirit.
Jesus is divine and equal to the Father, because the very demons and fallen angels He created quake in terror and cry out in fear when they beheld His teaching from the Scriptures.
Jesus is distinct from the Father, which the demons acknowledge when they identify Him as "God's Holy One."
In a very real way, the power of God has broken into creation in the Person of Jesus of Nazareth, the God-Man. As a man, He lived a perfect and sinless life in our place, as our substitute. And yet, as God, He rebukes and commands the very forces of darkness and wickedness which hold men, women, boys and girls from every tribe, language, people and nation on earth captive in the dungeon of sin and willful rebellion.14
The demons themselves recognize Jesus' divinity, equality and distinction from the Father. Ironically, they know the triune God far better than those "Christians" who deny the doctrine of the Trinity.15
7491 reads