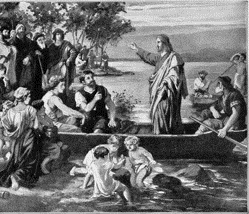 Read the rest of the series.
The Pharisees are seeking to kill Jesus, but the demons confess Him as the Son of God. This is a great irony of the Gospels. The leaders who ought to recognize him hate Him. The fallen angels who should hate Him bow before Him. Meanwhile, the people who should gladly receive Him ignore His message.
Power Over the Demons
Jesus withdrew with his disciples to the sea, and a great multitude from Galilee followed; also from Judea and Jerusalem and Idumea and from beyond the Jordan and from about Tyre and Sidon a great multitude, hearing all that he did, came to him (Mk 3:7-8).
After the latest confrontation, Jesus withdraws from Capernaum "to the sea." We're not sure where Jesus went, because Capernaum is on the Sea of Galilee. He probably went to a more secluded location along the coast, away from the city.1 It is clear Jesus doesn't intend to wage a full-out theological assault against the Pharisees. To borrow a military analogy, His confrontation with the Pharisees in the synagogue (3:1-6) is better seen as a strategic raid than a declaration of all-out war. More direct confrontation will only result in a premature arrest, torture and execution. The Father has a divine timetable (cf. Ecc 3:1-8), and Jesus follows it — thus He beats a tactical retreat.2
What a contrast between the Pharisees' homicidal intent, and the response from the crowds. They come to Him from everywhere; Jews from Jerusalem and Judea, and Gentiles from the south, east and north.3 They come separately, meet together and form one mass of pilgrims.4 John the Baptist didn't draw this many people (Mk 1:5), and only preached to Israelites (cf. Lk 3:1-17).5 Jesus, on the other hand, indiscriminately preaches to the Gentiles and the Jews. He does not have the racist, exclusivist mindset that is so foreign to the Old Covenant Scriptures, but was so common in His day.6 He truly was a light for the Gentiles (cf. Isa 49:6). Jesus is Jewish, but many Israelites forgot that their Jewish Messiah came to be a Messiah for all people (cf. Lk 2:29-32, Acts 13:46-48).
And he told his disciples to have a boat ready for him because of the crowd, lest they should crush him; for he had healed many, so that all who had diseases pressed upon him to touch him (Mk 3:9-10).
For Jesus, crowds are no indication of success. Then, as now, people often followed Jesus for selfish and unholy reasons. These crowds followed Jesus because they wanted divine healing.
Jesus, always a practical fellow, orders a boat prepared so He can flee, if necessary.7 He's in danger of being crushed and trampled. In a modern context, Jesus would be preaching on a street-corner in front of the open, sliding door of a minivan, the engine running, a disciple at the wheel!
Mark describes a nearly out of control mob. The scene is at once frightening and exhilarating. Jesus fears being crushed because His healing miracles have incited a frenzy. The mass of people, Jew and Gentile alike, press forward relentlessly, fighting and clamoring to get near. This is very different from the silly stereotype of gentle Jesus, meek mild, teaching the adoring masses from a landscaped hillside while He cradles a lamb in His lap.
These people don't care what He preaches, what He says, or who He is. They're pressing forward to touch Him, so they might be healed. He's a rabbit's foot, a talisman - somebody who can give them what they want.8 Yet, it is remarkable that Jesus did not angrily send them away. He evidently healed many of them.9
Little has changed. Many people do not seek Christ because they want forgiveness and justification. They seek Jesus because of what He can do for Him. He's a Cosmic Butler, who lives to serve us.
I recently listened to a sermon from a pseudo-megachurch near my home. It was blasphemy of the worst kind. The message was, "come to Jesus so He can make your life easier, give you a better job, more money and make you happy." In this church, Jesus' actual message, His doctrinal content and ethical commands to repent, believe and deny yourself and follow Him, are meaningless. Christ is just a prop for charlatans to hang blasphemy on.
These crowds in Mark's Gospel are the same. His message is irrelevant to them; they just want healing.10 The implications of that healing are lost on them (cf. Lk 7:18-23, Mk 3:22-27).    
And whenever the unclean spirits beheld him, they fell down before him and cried out, "You are the Son of God." And he strictly ordered them not to make him known (Mk 3:11-12).
The Pharisees are plotting to kill Him. The crowds don't care what He says. Yet, the demons give Him the glory! Many people in this crowd are demon-possessed. Whenever they see Him, they fall down and literally scream and shriek their confession.
Can you imagine the scene? This is an ongoing event. The crowds press forward, anxious to touch Jesus and be healed. In the midst of this mob, demon-possessed men, women, boys and girls alternatively scream and howl, loudly, that Jesus is the Son of God.11 They do this whenever they catch sight of Him. In the crush of the crowd, they don't have an unobstructed view. As they catch periodic, fleeting glimpses of the Christ, they scream their confession, despite themselves. They fall down before Him, wherever they are, and confess His identity in the most public way possible.
Demons are fallen angels. Jesus is their creator. He is their ultimate adversary, and His power over the forces of darkness is absolute. Those who have Christ as their King and God as their Lord should respect Satan as a formidable adversary indeed (cf. Jude 9), but they need not wonder how this conflict will end. Satan will lose.
Why does Jesus forbid the fallen angels to make Him known? The text doesn't say, and a whole lot of ink (and even more kilobytes) have been spilled trying to figure it out. It is clear the true nature of Jesus as Messiah can only be appreciated in light of the Cross, the Resurrection, and the outpouring of the Holy Spirit in the inauguration of the New Covenant. This is as good an explanation as any for why Jesus commanded the demons to be silent.12
Because He is God and they are not, the unclean spirits obey. What else can they do? This decisive confrontation with the forces of darkness is a prelude to perhaps the key passage about the purpose of His miracles (Mk 3:22-27).
Delegating Authority
And he went up on the mountain, and called to him those whom he desired; and they came to him. And he appointed twelve, to be with him, and to be sent out to preach and have authority to cast out demons: Simon whom he surnamed Peter; James the son of Zebedee and John the brother of James, whom he surnamed Boanerges, that is, sons of thunder; Andrew, and Philip, and Bartholomew, and Matthew, and Thomas, and James the son of Alphaeus, and Thaddaeus, and Simon the Cananaean, and Judas Iscariot, who betrayed him (Mk 3:13-19).
After Jesus demonstrates such complete mastery over the fallen angels, He delegates this authority to His chosen disciples. They did not choose Him; He chose them.13 This is the church in embryo form; a group of called out believers in Christ, who are sent forth by Christ, bringing His Good News indiscriminately to the wide world beyond.
Jesus appoints twelve:
To be with him. You cannot be a follower of Christ unless you have fellowship with Him. You cannot have fellowship with Christ unless you believe what the apostles heard, and saw with their eyes, and looked upon and touched with their hands — the truth about Jesus Christ, the word of life (1 John 1:1-4). You learn about this from the books they and others wrote, which tell you all about it (i.e. the New Testament). This implies a community of believers who learn from Christ.
To preach. This is the point of their community, of their training. They will be sent out to preach and proclaim the message He gives them. The kingdom of God is here! Repent, believe, and join this kingdom!14
To have authority to cast out demons. The One who has such complete mastery over Satan and His minions also has the authority to delegate this power to His children. This is clearly a divine power and authority.15 And, this power is only meant to accredit the preaching — to prove the kingdom of God has broken into this dark and evil world and vanquished that darkness.
Conclusion
Jesus is God. He has clear and obvious power over the unclean spirits (cf. Mk 1:27). He delegates and dispenses this power to His apostles, and will eventually send them forth as His representatives. The demons see and recognize Jesus' authority. They scream, fall to the ground and confess His identity at the very sight of him. They obey His commands. They are putty in His hands.
In contrast, we see the Pharisees in Capernaum plotting their little plots. We see the crowd as a near mob of half-crazed pilgrims who seek only physical healing. His own disciples are spiritually dull; their training has only begun. Ironically, only the demons truly give Him the glory. Yet, as they do so, they testify to His divinity, and His co-equal and His co-eternal status with the Father.16 He confirms their testimony in the most appropriate way possible — by silencing them. 
We believe that there is one, and only one, living and true God, an infinite, intelligent Spirit, whose name is JEHOVAH, the Maker and Supreme Ruler of Heaven and earth; inexpressibly glorious in holiness, and worthy of all possible honor, confidence, and love; that in the unity of the Godhead there are three persons, the Father, the Son, and the Holy Ghost; equal in every divine perfection, and executing distinct and harmonious offices in the great work of redemption.17
7450 reads