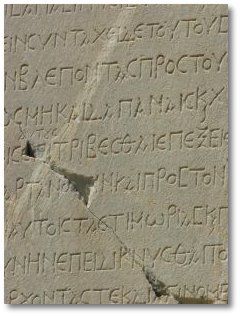 The following is reprinted with permission from Paraklesis, a publication of Baptist Bible Seminary. The article first appeared in the Summer '09 issue.
Why learn Hebrew and Greek?
I want to address just one facet of the question in this essay. The primary purpose of Baptist Bible Seminary is to train pastors. We have made a deliberate choice to focus on only one narrow slice of graduate-level biblical-theological education. I am thinking first and foremost of the pastor when I think of the place of the biblical languages in the curriculum. In its biblical portrait, the central focus in pastoral ministry is the public proclamation of the Word of God. There are certainly other aspects of pastoral ministry, but it can be no less than preaching if it is to be a biblical pastoral ministry.
How does preaching relate to the biblical languages?
I have some serious concerns about the state of the pulpit these days. My concern could be stated fairly well by adapting the wording of 1 Sam. 3:1 and suggesting that biblical preaching is rare in our day, and a word from God is infrequently heard from our pulpits. Some of today's best known preachers echo the same sentiment. John Stott, for example, says that "true Christian preaching…is extremely rare in today's Church."1
As those who stand in the pulpit and open the Word of God to a local congregation, pastors have the same charge as that with which Paul charged Timothy: "Preach the Word" (2 Tim 4:2). That is an awesome responsibility. The apostle Peter reminds us that "if anyone speaks, he should do it as one speaking the very words of God" (1 Pet 4:11).
The Word of God is a most precious treasure—equal to our very salvation in worth, for if we had no Bible we would know nothing of God's Son, the forgiveness that His cross-work provided, and the new covenant relationship which that work inaugurated.
Although the Word of God has been given for all, the pastor is entrusted with the Word of God in a special sense due to his primary responsibility of proclaiming that Word to a congregation. Handling the Word of God correctly is an enormous responsibility. As James exhorted his hearers, "Not many of you should presume to be teachers, my brothers, because you know that we who teach will be judged more strictly" (James 3:1).
There ought to be a very real sense in which the pastor recognizes and acknowledges his inadequacy for such a great task. Richard Baxter, the famous 17th century preacher, reminds us that "it is no small matter to stand up in the face of a congregation and deliver a message of salvation or condemnation, as from the living God, in the name of our Redeemer."2
Preaching is directly influenced by our theology. If we really believe, not just as a matter of academic statement, but as genuine convictions, that the Bible is God's revealed truth, inspired and inerrant in the originals, then our preaching and teaching of that revelatory corpus must, of necessity, be based on our careful study of the text in the original languages.
There is no other way to have the immediate confidence necessary to undergird our proclamation of "thus says the Lord." If you cannot read the Old Testament in Hebrew and the New Testament in Greek, you will always be at the mercy of those who claim to to be able to do so. The pastor may never become a scholar in the languages, but he absolutely must learn to understand the text as God saw fit to have it written. He must learn to read the text, use a lexicon, and evaluate and profit from the commentaries and grammars. He cannot depend on software to do this for him.
Yes, any of the decent language-based software tools will parse every word for you, but if you don't know what to do with that information, what good is it? There is a world of difference between pieces, even mountains, of data and comprehension.
Works Cited
1 Between Two Worlds: The Art of Preaching in the Twentieth Century (Grand Rapids: Eerdmans, 1982), 15.
2 The Reformed Pastor, edited and abridged by Jay Green (Grand Rapids: Sovereign Grace, 1971), 17.
---
Dr. Rodney Decker has served as Professor of Greek and New Testament at Baptist Bible Seminary since 1996. He has published several books and scholarly articles. He also edits and maintains NTResources.com and has created several specialized TrueType fonts for Greek. 
35095 reads