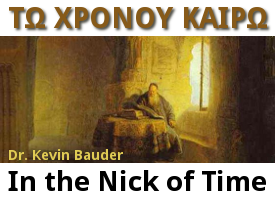 Read Part 1 and Part 2.
The Order of Melchizedek
The writer to the Hebrews was distressed by the spiritual immaturity of his readers. He wanted to discuss theology with them—specifically, the calling of Christ as a high priest after the order of Melchizedek (Heb. 5:10-14). He made it clear that the Hebrews had been saved long enough ("when for the time") that they ought to have mastered this topic ("ye ought to be teachers"). Instead, he had to rehearse certain elementary teachings of biblical doctrine ("the first principles of the oracles of God").
The writer's disappointment with the immaturity of the Hebrew believers was what fueled the warning passage of chapter 6. Not until chapter 7 did he return to the theme that Christ is a high priest after the order of Melchizedek. When he finally got back to it, however, he penned one of the most difficult and detailed arguments in all of Scripture. This argument is highly instructive concerning the nature of Christ's high priesthood.
Nothing in Hebrews 7 is really new. Everything in the chapter is inferred from three sources. The first source is the Genesis account of Melchizedek, a three-verse snippet of narrative (Gen. 14:18-20). The second source is a single verse (Ps. 110:4) from a Messianic psalm. The third source is a general knowledge of the history and culture of Israel. From these short sources, the writer constructs an elaborate discussion of the high priesthood of Christ after the order of Melchizedek. So detailed is the discussion that only the outlines can be explored here.
The writer notes that, in a book filled with genealogies (Genesis), no information is given about Melchizedek's birth, death, ancestors, or descendents. Therefore, Melchizedek's right to be a priest cannot be connected in any way with his family line. Unlike Levitical authority, the authority of Melchizedek is not limited to a particular family or a particular time (Heb. 7:1-3).
Melchizedek was obviously greater than Abraham. The patriarch paid tithes to Melchizedek, and the priest blessed the patriarch. Both of these acts imply superiority on the part of Melchizedek. Abraham, however, was greater than Levi, inasmuch as Levi was "in [Abraham's] loins." A fortiori, Melchizedek was greater than Levi, which in turn implies that the priesthood of Melchizedek must be greater than the priesthood of Levi (Heb. 7:4-10).
The promise that Messiah would be a priest after the order of Melchizedek came hundreds of years after the establishment of the Aaronic priesthood. This sequence raises a question: why was a different priesthood needed? If the Aaronic priests were fulfilling (or could have fulfilled) the purpose of a priesthood, then another priesthood would have been unnecessary (Heb. 7:11).
Furthermore, the Aaronic priesthood was integrally connected with the Mosaic law. Consequently, when the priesthood was replaced, the law also had to be replaced. Not only does a Melchizedekian priesthood imply the weakness and futility of the Aaronic priests, but also the weakness and futility of the Mosaic law (Heb. 7:11-12).
Messiah was to come from the tribe of Judah. The Aaronic priests, however, all came from the tribe of Levi. Therefore, Messiah's authority to be a priest could not be connected with the appointment of Aaron and his sons. It had to come from a different source and rest upon a different authority. From what source does Messiah's priestly authority arise? The writer notes that Messiah is appointed as a priest "forever." Being a priest forever implies an endless life. That indestructible life must be the source upon which rests Messiah's priesthood (Heb. 7:13-17).
The Levitical priesthood was rendered inoperative because of its weakness and unprofitability. The law with which it was connected was also weak and unprofitable, and consequently it, too, was rendered inoperative. It could make nothing perfect. Because of Messiah's incarnation as a high priest after the order of Melchizedek, however, a new and better hope has been ushered in. Messiah does what no Levitical priest could do: he makes it possible for people to draw near to God (Heb. 7:18-19).
The Aaronic priesthood was established without an oath. That is why it could be altered or even abolished. God owed nothing to the sons of Aaron. Messiah's priesthood, however, was established by an oath of which Yahweh will not repent. Accordingly, Messiah's priesthood is permanent and will never be abolished. It can never be transcended. No Aaronic priest could offer a guarantee, but Messiah has become a guarantor of a better covenant (Heb. 7:20-22).
The permanence of Messianic high priesthood is all the more clear when it is contrasted with the mortality of Levitical priests. Since they died, they constantly had to be replaced. No Aaronic priest could ever act as a permanent mediator. Since Messiah will never die, however, his priesthood is ongoing and unchangeable (Heb. 7:23-24).
The high priesthood of Jesus is grounded in two sure things: the indestructible life of the Messiah himself, and the unchangeable oath of Yahweh. The priesthood of Jesus is utterly and finally efficacious. Unlike the Levitical high priests, he only had to offer a single sacrifice one time when he offered himself. Because of his perfection, he is able to save us to the uttermost when we come to God by him.
The high priesthood of Jesus is connected both with his deity and his humanity. To be a priest he had to be one of us. That called for a complete human nature. For his priesthood to be efficacious, it had to rest upon the power of his indestructible life. That called for a complete divine nature. Because He is true God and true man, Jesus the Messiah can save us truly, utterly, completely, and forever.
* * *
Therefore, following the holy fathers, we all with one accord teach men to acknowledge one and the same Son, our Lord Jesus Christ, at once complete in Godhead and complete in manhood, truly God and truly man, consisting also of a reasonable soul and body; of one substance with the Father as regards his Godhead, and at the same time of one substance with us as regards his manhood; like us in all respects, apart from sin; as regards his Godhead, begotten of the Father before the ages, but yet as regards his manhood begotten, for us men and for our salvation, of Mary the Virgin, the Godbearer; one and the same Christ, Son, Lord, Only-begotten, recognized in two natures, without confusion, without change, without division, without separation; the distinction of natures being in no way annulled by the union, but rather the characteristics of each nature being preserved and coming together to form one person and subsistence, not as parted or separated into two persons, but one and the same Son and Only-begotten God the Word, Lord Jesus Christ; even as the prophets from earliest times spoke of him, and our Lord Jesus Christ himself taught us, and the creed of the fathers has handed down to us. [Definition of Chalcedon, AD 451]
Immanuel, to Thee We Sing
Paul Gerhardt (1606-1676)
Immanuel, to Thee we sing,
Thou Prince of life, almighty King;
That Thou, expected ages past,
Didst come to visit us at last.
For Thee, since first the world was made,
Men's hearts have waited, watched and prayed;
Prophets and patriarchs, year by year,
Have longed to see Thy light appear.
All glory, worship, thanks and praise,
That Thou art come in these our days!
Thou heavenly Guest, expected long,
We hail Thee with a joyful song.
[node:bio/kevin-t-bauder body]
3592 reads