Thoughts on Building Community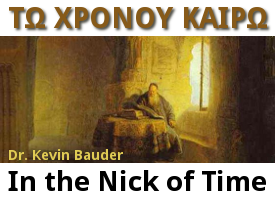 My pastor has asked me to present a Wednesday evening series on the marks of a church's wellbeing. Much of what I am doing is thinking through Baptist distinctives from a different point of view. As these discussions are completed, copies of the visuals will be posted on the Fourth Baptist Church or Central Seminary web sites.
One of the matters I've been reexamining is the nature of the particular church as a covenanted body. Many Christians other than Baptists recognize the covenantal nature of the organized church. Not every assembly of believers is a church. To constitute a church, a body of believers must—at minimum—purpose to be a church.
At this point, however, a difficulty arises: true Christians disagree among themselves about many features of the church. They disagree about its form of organization, the number and function of its officers, the correct way of observing its ordinances, and the qualifications of those who will be received as members. They often disagree about the system of faith that the church ought to profess, about which aspects of the system leaders should have to affirm, and even about which aspects should be required beliefs for members.
When Christians disagree about how a church obeys Christ, they cannot all commit themselves to membership in the same church. Some Christians believe that a church is sinning if it does not permit the baptism of infant children. Other churches believe that a church is sinning if it does. Christians with these conflicting commitments cannot become members of the same church unless one side is willing to participate in what it believes to be sin. Separate organization is virtually mandatory if all believers are going to live in what they perceive to be biblical faithfulness.
A church's covenant states the intention of a body of believers to organize as a church, but it does more. It also stipulates what these particular believers understand a church to be. It (with its attendant statements) specifies the church's faith and order, its form of organization, its officers and ordinances. Furthermore, it spells out the mutual obligations that these believers are taking upon themselves toward one another.
These obligations are serious in nature. All church members submit themselves to the discipline of their church, which means that they submit themselves mutually to one another. They swear (for the covenant is an oath) that they will watch over one another, care for one another, and hold one another accountable for both private and corporate spirituality.
A church is not a social club. It is a covenanted body. People should never join a church casually or with mental caveats about what they will do if things do not go their way in the church. Church membership should be viewed less like a date and more like a marriage in the respect that both marriage and church membership begin with a vow before God. There is something deeply immoral about church-hopping, just as there is something disturbing about those believers who wish to attend a church while refusing the commitments of membership.
A church is a community. Church members cannot expect to fulfill their covenant obligations if they only meet each other during the public assemblies. The nature of their mutual duties requires that they develop relationships that go far beyond the gatherings of the church. They must experience a level of transparency and trust that comes only with knowing one another well.
In the past, and in more rural settings, these relationships arose naturally out of life in the larger community. Everybody in and around town knew everybody else's business. Anonymity was virtually impossible. Modernity and urbanization, however, have brought a faster pace to life, along with greater individualization and privatization. Churches pride themselves on attracting a number of attendees that would have been inconceivable in the past. Anonymity is endemic to the situation. We are beset with a sense that our personal lives are nobody else's business, and that word nobody includes the fellow members of our churches.
Nothing could be more deadly to church life. If a church wishes to function well, it must find ways to lead its members past the shallowness of superficial relationships, and it must do so without producing a multiplicity of small cliques that function essentially as tiny sub-churches. A New Testament church is no more a gathering of discrete factions than it is a gathering of discrete individuals.
A church has to do more than to foster special-interest groups (such as a youth group, a sportsmen's group, a mothers-of-preschoolers group, a quilting circle, etc.). It also has to do more than assign members to small-group studies. While these activities may be a part of the solution, by themselves they cannot do more than to produce a congregation of cliques. In a large church filled with members who are unknown to one another, such activities are better than nothing, but they are not enough. They will not produce a body in which the members are genuinely fulfilling their covenant obligations to one another.
What more can churches do? How can they avoid the scandal of anonymous members? I'll offer a few suggestions in the next essay.
Before the Cross
Jacques Bridaine (1701-1767), trans. Thomas Benson Pollock (1836-1896)
My Lord, my Master, at Thy feet adoring,
I see Thee bowed beneath Thy load of woe:
For me, a sinner, is Thy life-blood pouring;
For Thee, my Saviour, scarce my tears will flow.
Thine own disciple to the Jews has sold Thee,
With friendship's kiss and loyal word he came;
How oft of faithful love my lips have told Thee,
While Thou hast seen my falsehood and my shame!
With taunts and scoffs they mock what seems Thy weakness,
With blows and outrage adding pain to pain;
Thou art unmoved and steadfast in Thy meekness;
When I am wronged how quickly I complain!
My Lord, my Saviour, when I see Thee wearing
Upon Thy bleeding brow the crown of thorn,
Shall I for pleasure live, or shrink from bearing
Whate'er my lot may be of pain or scorn?
O Victim of Thy love, O pangs most healing,
O saving death, O wounds that I adore,
O shame most glorious! Christ, before Thee kneeling,
I pray Thee keep me Thine for evermore.