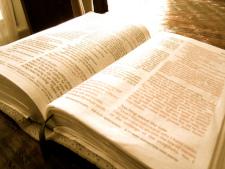 With Matthew 5:21-48 Jesus quoted the OT seven times. Six of these involve an OT command from the Law of Moses followed by the statement "But I say to you .  .  ." A seventh concerns a statement that Jerusalem is "the city of the great King," a reference to Psalm 48:2 in Matthew 5:35. This latter example, from Psalm 48:2, is a contextual affirmation of the significance of Jerusalem. Our attention, though, focuses on the other six uses of the OT. These reveal how Jesus viewed himself in relation to the Law of Moses. These six uses of the OT by Jesus are:
You have heard … "'You shall not commit murder' and 'Whoever commits murder shall be liable to the court.' … But I say to you … ." (NASB, Matt. 5:21-22; quotation of Exodus 20:13).

You have heard that it was said, "'You shall not commit adultery'; but I say to you… ." (Matt. 5:27-28; quotation of Exodus 20:14).

"It was said, "'Whoever sends his wife away, let him give her a certificate of divorce'; but I say to you… ." (Matt. 5:31-32; quotation of Deut. 24:1).

Again, you have heard … "'You shall not make false vows, but shall fulfill your vows to the Lord.' But I say to you… ." (Matt. 5:33-34; allusion to Lev. 19:12; Deut. 23:21).

You have heard that it was said, "'An eye for an eye, and a tooth for a tooth.' But I say to you… ." (Matt. 5:38-39; quotation of Exod. 21:24).

You have heard that it was said, "'You shall love your neighbor and hate your enemy.' But I say to you… ." (Matt. 5:43-44; quotation of Lev. 19:18).
Noticeable is the recurring formula, "You have heard" or "It was said," followed by "But I say to you." This repetition indicates these six uses of the OT are joined in a broader argument. These six uses must be studied individually and collectively.
How is Jesus using these OT texts from the Law of Moses? Before commenting on this question, note that the meaning of Matthew 5:21-48 is heavily debated, as is the section immediately preceding it—Matthew 5:17-20. These two sections have ramifications for how Jesus viewed the Law of Moses and whether the Mosaic Law is binding on Christians today. A full discussion of these issues and the debates over them go way beyond our purposes here. But it is necessary to briefly state the main positions concerning what Jesus is doing in Matthew 5:21-48.
One view is that Jesus corrected distortions that the Jewish religious leaders allegedly made to the Law of Moses. So Jesus is removing rabbinic-tradition clutter from the Law of Moses so the Law can be correctly understood and followed. If this is accurate, Jesus is not really "quoting" Mosaic commands but stating rabbinic traditions of the Law so that He can correct them. Charles Quarles seems to affirm this position when he writes: "The formula ["But I say to you"] contrasts Jesus's interpretation of the Scriptures with popular rabbinic interpretations" (Matthew, Exegetical Guide to the Greek New Testament, 55).
Another position is that Jesus actually quotes Mosaic Law instructions to contrast these with His new instruction for the new era He brings. With this view, Jesus is the better Moses and King who offers New Covenant instruction that supersedes the instruction of the Mosaic era.
A third and mediating view is that Jesus maintains continuity with the Law of Moses as a rule of life for today, but He also makes some modifications to the Law, perhaps internalizing and individualizing the Mosaic commands. Allegedly, a merger of the Law of Moses and Law of Christ is happening. What Jesus says has ramifications for the New Covenant and Law of Christ but this involves the Mosaic Covenant, too, in some aspects. Turner seems to affirm a version of this third perspective when he writes, "On the one hand, Jesus does not contradict the law, but on the other hand, he does not preserve it unchanged." (Matthew, in Baker Exegetical Commentary on the New Testament, 167).
In short, the issue here is whether Jesus is exegeting and confirming the Mosaic Law as a rule of life or whether He is giving New Covenant instruction that is not the same as the Mosaic Law. Or is the truth somewhere in between? Which view one holds often affects how the six quotations in Matthew 5:21-48 should be understood. If the first view above is correct then Jesus confirms the Law of Moses by removing false Jewish understandings of the Law. If the second view is correct, Jesus is quoting actual Mosaic Law commands to contrast them with His new instruction as the better Moses and Messiah. The third view takes a middle-ground approach. If correct this seems to blend Mosaic and New Covenant instructions in a hybrid manner.
We think the second view is accurate. All six statements by Jesus can be linked with specific Mosaic instruction. And while Jesus mentions the scribes and Pharisees in Matthew 5:20, He does not appear to be addressing the issue of rabbinic interpretations in His sermon. Thus, the simplest and best view is that Jesus is simply quoting and paraphrasing Mosaic Law instruction. In sum, Jesus quoted the Mosaic Law six times in Matthew 5:21-48, not simply to explain the Mosaic Law or to correct misunderstandings of this Law, but to contrast Mosaic Law instruction with His New Covenant requirements. In fact, all of Matthew 5-7 (the Sermon on the Mount) is new instruction from the King. He offers at least 46 explicit commands in this section. Note Jesus' emphasis on His words at the end of the Sermon:
"Therefore everyone who hears these words of Mine and acts on them… . (Matt. 7:24).

Everyone who hears these words of Mine and does not act on them… . (Matt. 7:26).

… for He was teaching them as one having authority… . (Matt. 7:29) (emphases mine).
The stress with these statements is on Jesus' words, not those of Moses.
With Matthew 5:17-19 Jesus declared that He did not come to abolish the Hebrew Scriptures (i.e. "the Law or the Prophets"). He came to "fulfill" them. Matthew 5:18 reveals that fulfillment means that everything in the Hebrew Scriptures (i.e. the Old Testament) must come to pass. And one of these predictions was that there would be a coming New Covenant that would supersede the previous Mosaic Covenant. Jeremiah 31:31-32 predicted this:
"Behold, days are coming," declares the Lord, "when I will make a new covenant with the house of Israel and with the house of Judah, not like the covenant which I made with their fathers in the day I took them by the hand to bring them out of the land of Egypt, My covenant which they broke, although I was a husband to them," declares the Lord (emphases mine).
So fulfillment of the Law and the Prophets includes the prediction that the New Covenant would replace the older Mosaic Covenant.
---
Michael J. Vlach, Ph.D. (Twitter: @mikevlach) is Professor of Theology at The Master's Seminary where he has been teaching full time since 2006. Michael specializes in the areas of Systematic Theology, Historical Theology, Apologetics, and World Religions. Dr. Vlach was awarded the "Franz-Delitzsch Prize 2008" for his dissertation, "The Church as a Replacement of Israel: An Analysis of Supersessionism." He blogs here.
1883 reads
9267 reads