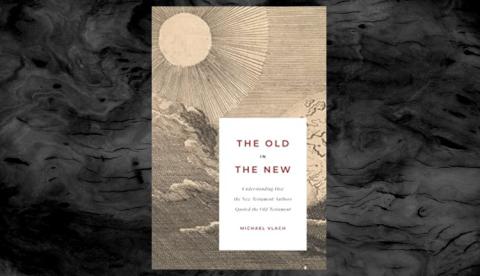 I am excited to announce the release of my new book, The Old in the New: Understanding How the New Testament Authors Quoted the Old Testament. The book is published by Kress Biblical Resources with an imprint from The Master's Seminary. I have been working on this book since 2011. It was formed through years of teaching a Th.M. seminar at The Master's Seminary called, "New Testament Use of the Old Testament."
Trying to understand NT quotations of the OT is a huge topic for any one person but I have tried my best to address most NT uses of the OT in this book. This includes the "harder" cases like Matthew 2:15's use of Hosea 11:1, and Paul's use of "seed" in Galatians 3:16. In his endorsement of this book, Walter Kaiser states, "He [Vlach] has also taken up a wide sample of most, if not all, of the passages usually raised on this subject and has given a reasonable solution in Scripture text after Scripture text—in a succinct, but credible manner. I cannot endorse Vlach's work too highly, for I found that he had hit the nail on the head in case after case." 
I also address the various ways the NT authors quoted and used the OT. In addition, I also evaluate the seven different approaches to this topic. And I lay out the perspective that I think is accurate.
This topic is very complex but it is understandable. In the end I argue that the NT authors quoted and used the OT in an overwhelmingly contextual way. The quotations of the OT are consistent with the inspired authorial intents of the OT authors. To grasp this, one must know when the NT authors are quoting the OT concerning meaning, and when they are quoting the OT concerning significance or implication.
This book also takes a minority view that the NT authors were not reinterpreting, transforming, or transcending the meaning of the OT. I hold that there is great continuity (not discontinuity) between the message and storyline of the OT and that found in the NT. To understand how the NT authors quote the OT, one must also understand the concepts of (1) Messianic hope; (2) corporate representation; and (3) divinely intended correspondences.
No one person can fully master the topic of NT use of the OT before Jesus comes again, but I hope this book makes a helpful contribution. This book can be read straight through or as a reference for when one encounters a particular use of the OT in the NT.
The book is available at Amazon (affiliate link).
---
Michael J. Vlach, Ph.D. (Twitter: @mikevlach) is Professor of Theology at The Master's Seminary where he has been teaching full time since 2006. Michael specializes in the areas of Systematic Theology, Historical Theology, Apologetics, and World Religions. Dr. Vlach was awarded the "Franz-Delitzsch Prize 2008" for his dissertation, "The Church as a Replacement of Israel: An Analysis of Supersessionism." He blogs here.
1878 reads
1702 reads