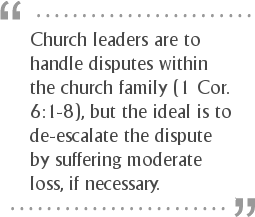 The Midrash Key examines selected portions from the Gospel of Matthew and demonstrates that they are expositions or applications of First Testament (Old Testament) texts. But there is no way to address all of Jesus' teachings in a single volume. As John noted in writing his Gospel, processing the words of Jesus is a major undertaking. John 21:25 reads, "Jesus did many other things as well. If every one of them were written down, I suppose that even the whole world would not have room for the books that would be written."
So we have to deal with a portion at a time, here a little, there a little. The focus here is on some of Jesus' more famous words in the Sermon on the Mount, Matthew 5:38-42. The text reads as follows:
You have heard that it was said, 'Eye for eye, and tooth for tooth.' But I tell you, Do not resist an evil person. If someone strikes you on the right cheek, turn to him the other also. And if someone wants to sue you and take your tunic, let him have your cloak as well. If someone forces you to go one mile, go with him two miles. Give to the one who asks you, and do not turn away from the one who wants to borrow from you….
The theme of this section is "being generous with grace." The guiding principle in being generous with grace is the idea of "walking the extra mile."
The extra mile
As we examine the Savior's words, please first note the moderate nature of walking the extra mile. If we are struck on the cheek, we turn the other cheek. Yet the matter ends there: we do not turn the other cheek again without limit. If someone is attempting to sue us and demands our tunic for compensation, we grant him our tunic and another garment in addition. We do not grant him our entire wardrobe, the lease to our house, or all our worldly possessions.
Roman law demanded that non-Romans could be forced to carry a soldier's gear for one mile. Jesus' disciples are to go beyond the requirement of the law and carry the gear two miles. Not three miles, not twenty miles, but two.
The context
Second, let's note the context of this passage. I have pointed out frequently that the text from the Sermon on the Mount takes about eleven minutes to read, but we can assume Christ spoke for at least two hours and probably three or four. What we have are summary statements and partial quotations. Jesus is probably commenting (via Midrash) upon a variety of passages from the Torah, such as Exodus 21:23-25. The more immediate context addresses avoiding litigation. Matthew 5:25 offers a good summary of the context:
Settle matters quickly with your adversary who is taking you to court. Do it while you are still with him on the way, or he may hand you over to the judge, and the judge may hand you over to the officer, and you may be thrown into prison….
These verse deal with the litigation debates of the day, and the disciples' willingness to suffer a moderate amount of loss in an attempt to be at shalom (peace) with others. The concept is addressed from a different angle by Paul in Romans 12:18a: "If it is possible, as far as it depends on you, live at peace with everyone."
Jewish debates
Third, let me call your attention to the Jewish debates about these issues at the time of Jesus. When we talk about the "eye for eye" commands, how did the Rabbis understand this demand? David Daube, in his work The New Testament and Rabbinic Judaism (Hendrickson, pp. 254-65), devotes a chapter (titled "Eye for Eye") to discussing the Jewish understanding of Talion (the law of retribution), that is, their understanding of the "Eye for Eye" command.
To the first century Jew, the expression was more or less synonymous with the idea of financial compensation and litigation. In other words, the Rabbis in Jesus' day took the command to mean, "compensate an eye for what an eye is worth, a tooth for what the court determines a tooth is worth." Whether this is the original intent of Moses' command may be a matter of debate, but this was apparently the understanding in Jesus' day.
Jesus, on the other hand, is encouraging his disciples to avoid court, when possible. Rather than taking advantage of every infraction with a lawsuit (the attitude of "eye for eye"), we need to hold off. Just because a disciple can take someone to court does not mean that he should. This hesitancy toward litigation applies even toward an evil person.
Yet we need to be careful not to extend Jesus' words to limitless proportions. We must remember His moderate examples. We need to remind ourselves that we have eleven minutes of summary from sermon several hours long.
In many cultures, a "slap in the face" is considered a form of insult. The Jews in Jesus' day were debating how much one should be compensated for insult. The Mishnah (Bara Kama 8:1) documents a firm ruling: "If anyone wounds his fellow, he becomes liable to compensate the injured party for five different aspects of the injury: damage, pain, healing, loss of time from work, and insult…."
And Bara Kama 8:6 reads, "Does he give him a blow upon the cheek? Let him give two hundred zuzees; if with the other hand, let him give four hundred…."
How Jesus applies the principle
Fourth, note how Jesus applies the principle to other situations. Rather than go through the bitter relational damage of a lawsuit, we are to suffer some loss, if necessary, to maintain peace and preserve relationships. If someone feels we have wronged him and he demands a tunic for compensation, we grant his demand and go beyond, throwing in a coat. Such an extravagant gesture of goodwill goes beyond merely keeping the peace.
In 1 Corinthians 6:7, Paul applies the principle Jesus taught: "The very fact that you have lawsuits among you means you have been completely defeated already. Why not rather be wronged? Why not rather be cheated?"
Church leaders are to handle disputes within the church family (1 Cor. 6:1-8), but the ideal is to de-escalate the dispute by suffering moderate loss, if necessary. The same is true with society at large. Although we should take great pains to avoid litigation, this does not mean Christians should never go to court, file a lawsuit, or resist a lawsuit. Some situations are more than moderate in implications and may affect innocent parties (e.g., custody of children in a divorce settlement).
In contrast to suing a brother for every possible infringement, Christ is saying, "give people space." That is the message of this portion of the Sermon on the Mount. In my view, Jesus is saying, "Put up with insult and even a moderate amount of abuse before you take someone to court. Let people have space to be human, to err. Do not take the attitude of an opportunist, perched to exploit every infraction."
A disciple who is ready to take advantage of others, to control others or to intimidate others is not very Christ-like. Such withholders of grace disgrace the God of grace. On the other hand, a disciple who walks extra miles without limit is an enabler of abuse and wrong. Between those two is the disciple who gives people space to err, but knows when enough is enough.
[node:bio/ed-vasicek body]
20509 reads