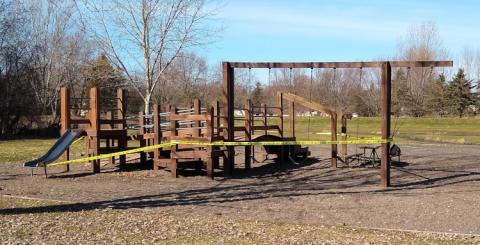 All humans are political and ideological. We're political in the sense that we have beliefs about the groups we're part of—what those groups ought to have done in the past, ought to do now, ought to do in the future, and what sort of people should lead them. And we certainly have strong views about the groups we're not part of.
We're also ideological. Even the most down-to-earth among us hold to some big ideas, reject some big ideas, and look at the world through an ideological set of lenses. People's worldviews range from highly rational, systematic, and coherent to highly random, chaotic, and contradictory, but we all have them.
And we've all got narratives we believe in that both flow out of, and sustain, our political and ideological commitments.
But something's wrong if we let group identities, dogmas, and stories dominate our thinking to the point that we're no longer able to recognize bunk (as in balderdash, hooey, flimflam) when it's being sold to us by those we see as "our own."
From where I sit, this seems to be a growing problem on "the right" these days. It's probably an equal or greater problem on "the left," but we're primarily responsible for ourselves, and we're supposed to be better than that.
Zealots and COVID-19
The latest example is the assortment of ill-informed attitudes and claims about COVID-19 I'm seeing echoed by fundamentalists, conservative evangelicals, and not-at-all-Christian folks on the right. I say "echoed," because they seem to originate from two often-overlapping flavors of political-right media: partisan-right media and conspiracy-right media. I don't want to get into a tiff about what sources belong under which heading, but the partisan-right media are the ones who are in lock-step with the GOP talking points—which means in lockstep with President Trump's talking points.
These are the media personalities who were sure COVID-19 was a big politically motivated hoax … until they were sure it wasn't … until they were sure it was "just overhyped, and we should all get back to work by Easter" … until they were sure that "nothing would be worse than declaring victory before the victory is won." Their messaging is perfectly synchronous with the White House.
By conspiracy-right sources I mean media personalities who occasionally or constantly trot out a range of anti-mainstream suggestions and claims, usually with bad data and sloppy reasoning for support—if there's any effort to support it at all. Sometimes its theories of sinister secret machinations, sometimes just dumb (and misleading) comparisons of supposed death rates (COVID-19 vs. flu, COVID-19 vs. lightning, etc.), and the like.
In both cases, what we're getting is not very good information. One is just GOP propaganda—thoughtless cheerleading for the administration. The other is a weird mix of paranoia, reflexive nonconformity, and cynicism.
Either way, what you get from these sources is advocacy for a group, a leader, a movement, or a mood—not advocacy for truth and solutions to problems. Zealots are loyal to their agenda and truth is only one tool in the box to use, or abuse, in service of that agenda.
Toward Better Sources
It may come as a shock to some, but the majority view isn't always wrong. There's a really strong consensus that sunshine is warm, that birds are generally poor swimmers, and that horses don't have feathers. Contrarianism has gotten so mindless on the right lately, I wonder if I could start a movement and get famous on the claim that horses really do have feathers, because "the left and the mainstream media say they don't … and it's all a plot to make Trump look bad."
Here's the point: for many matters in life, political and ideological zealots are the worst sources of information. COVID-19 is one of them.
It's true that nobody is really "objective." It doesn't follow, though, that nobody is rational, rigorous, and committed to good information. Thankfully, some are much more interested in being accurate than they are in advancing a party, ideology, or conspiracy theory!
At the top of many organizations, you're going to find some very political people. Because these leaders interface with national figures, some of whom are elected officials, that's to be expected. But the CDC and WHO and countless other public and private organizations working on COVID-19 are full of professionals in biochemistry, virology, epidemiology, and related fields, who really aren't very interested in what political party is dominant at the moment or what the current U.S. President's popularity numbers are—or even who wins the next election.
We can get COVID-19 information straight from these sources as well as other more local ones.
We can also get information from media sources that aren't dominated by political or ideological zealots. Although MSNBC on the left and Fox News on the right aren't always delivering heavily spun information (or outright misinformation), there's little need to go there—or turn on the TV at all—when you can read National Review, or better yet, The Dispatch. Though fallen humans like the rest of us, these folks are willing to look critically at the political "us," and not just the political "them"—a key characteristic of any source's commitment to truth. The Dispatch has even been known to argue that, as a nation and culture, we need to stop this madness of trying to politicize everything.
A small fact salad
These links are a bit old now, since I was gathering them mostly last weekend, but they may be of some use in countering a tiny bit of the misinformation bouncing around in the zealot-fandom echo chamber. There are also some good sources here for more up to date information.
What if they're wrong?
Maybe the people I trust are giving me bad info. Maybe the thousands of medical professionals at CDC and NIAID, the state health departments, the private and university researchers, and the many national health departments all over the world will somehow turn out to all be wrong about the severity of the disease and the need to flatten the curve. The economic analysts I've been reading have me convinced that COVID-19 was going to tank the economy with or without all the state and local efforts to flatten the curve, so crushing it on purpose to save lives was the right strategy. Maybe they'll turn out to have been wrong, too.
But if my sources turn out to be wrong, it won't be because they put their passion for a political agenda, or party, or leader ahead of their commitment to reason, research, and helping people. If they're wrong, it will be because they did their best to get the facts right and the response right, but failed. I'll take that over the  distortions of ideological zealots any day.
---
Aaron Blumer is a Michigan native and graduate of Bob Jones University and Central Baptist Theological Seminary (Plymouth, MN). He and his family live in small-town western Wisconsin, not far from where he pastored Grace Baptist Church for thirteen years. In his full time job, he is Information Coordinator for a law-enforcement digital library service.
1537 reads
5873 reads