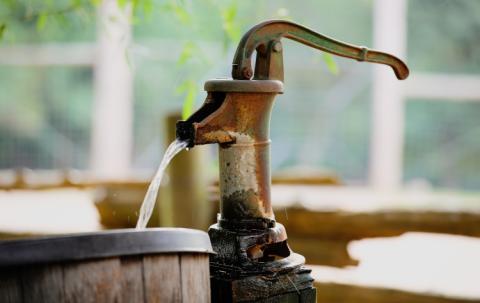 Read the series.
Where should discerning Christians get their information? Whom should we "trust"?
Arguably, Christians shouldn't "trust" sources at all, other than the Bible. We should consult sources on different sides of an issue and always engage our critical thinking skills. But there's a reality we have to grapple with: nobody has enough time to personally research every important topic. Even if we were never lazy, we'd end up with favorite information conduits we draw from on a regular basis.
We had better choose well.
The sources we consult regularly become our leaders and teachers to some degree, and we'll tend to be like them.
He also told them a parable: "Can a blind man lead a blind man? Will they not both fall into a pit? 40 A disciple is not above his teacher, but everyone when he is fully trained will be like his teacher." (Luke 6:39–40)
What we listen to, watch, or read on a regular basis influences our attitudes, assumptions, and biases.
Bad company corrupts good morals. (1 Cor 15:33)
Discernment depends on good sources of information, but, at the same time, choosing good sources requires discernment. This may seem paradoxical, but it's really not. It's like a spiral staircase you can enter at different points. No Christian begins the climb with zero discernment and zero good sources.
This article looks at using discernment to choose good sources and also at choosing good sources to grow in discernment.
First, some context.
What, why, how
The adult Sunday School class I began early in 2020 looked at Christian discernment under three headings that we cycled through repeatedly, adding and refining along the way:
What: better understanding what discernment is
Why: better understanding why it's important and why we need to work at it
How: better understanding the skills, habits and attitudes of discernment
With a similar approach in mind, here's a working definition of discernment.
Discernment is, at its core, seeing the differences between three sets of things:

Good/right vs. bad/wrong (Heb 5:14b, 1 Thess 5:21)
Truth vs. error (1 John 4:3-6)
More important vs. less important (e.g., Matt 23:23-24, 1 Cor 12:31)
In short, discernment is the skill of recognizing what's good, right, true and most important. The ability to recognize what's bad, wrong, false and of secondary importance is the flipside. Discernment is essentially the same thing as wisdom.
3 Biblical Qualities of Better Sources
1. Better sources are harder to find.
Proverbs is a platinum mine of insights into human nature, and one of the nuggets we find there is that humans have a built-in tendency to be distracted from where knowledge can truly be found. NIV's rendering of Proverbs 17:24 is especially helpful:
A discerning person keeps wisdom in view, but a fool's eyes wander to the ends of the earth. (Prov 17:24, emphasis added)
Wisdom can be found in many places (Prov 8:1-3), but foolishness can be found in many more! In Proverbs 17:24, the "fool" is simply someone failing to exercise source-discernment: he's looking for smart in all the wrong places—the easy places.
Proverbs 2 pictures the principle as digging for treasure.
… if you call out for insight and raise your voice for understanding, 4 if you seek it like silver and search for it as for hidden treasures, 5 then you will understand the fear of the Lord and find the knowledge of God. (Prov 2:3–5, emphasis added)
If we want to find truth in the daily cacophony of conflicting claims, we should expect to find it in places that take a little work. The more dazzling and passive a source is, the less likely we are to get good information from it.
Easier Sources

TV, Radio
Twitter, Facebook, Parler, etc.
Images, memes, video, soundbites
Viewing and listening

Harder Sources

Publications
In-depth news sites, analysis
Books, articles, conversations with informed people
Reading
Not every video is a lower quality source than every article, but in general, the easy stuff is the least fruitful stuff, so what we need is less passive viewing and listening vs. more mentally-active reading.
When it comes to sources, the lowest life form out there is undoubtedly the social media meme. If it's in a meme on Facebook, it's almost certainly untrue or true but misleading.
The more reliable sources don't just fall in our laps. They're hidden treasures that require effort to find and take in.
2. Better sources tell hard truths.
Proverbs reveals that the best sources are willing to tell us things we don't want to hear—things that challenge us and make us uncomfortable about ourselves. The keyword is "reproof."
The ear that listens to life-giving reproof will dwell among the wise. (Prov 15:31)

A scoffer does not like to be reproved; he will not go to the wise. (Prov 15:12)

Whoever loves discipline loves knowledge, but he who hates reproof is stupid. (Prov 12:1)
"Reproof" includes the groups, ideologies, denominations, ministries, movements, or political parties we see ourselves as belonging to. Its target is first, me, and second, us.
But reproof is in short supply these days.
Imagine a ballgame. It's a lot like many real ballgames, but more intensely polarized. Two teams are on the field, and everybody in the stands is a passionate fan of one of them. In response to the other team's actions, they only jeer. In response to their own team's actions, they only cheer. Their own team can do no wrong. The other team can do no right.
Reproof is the opposite of this jeer-and-cheer scene, but the media—social, as well as TV and radio—are full of sources that never do anything else. These sources exist at both ends of the social-political spectrum (rarely in the middle, not coincidentally). When the jeer-and-cheer sources on the right criticize conservatives or Republicans, they commonly cast their targets as actually playing for the other team.
To these people, there is never anything wrong with their own team. In the language of Proverbs 15:12, they're scoffers who hate reproof. In the language of Proverbs 12:1, they're stupid.
Scripture teaches that if we're wise, we actively seek out voices that are willing to tell us uncomfortable truths about what we—or our movement or group—are lacking. The wise don't behave as if their own team is perfect.
Do you see a man who is wise in his own eyes? There is more hope for a fool than for him. (Prov 26:12)
3. Better sources possess genuine expertise.
Expertise is just specialized knowledge. When we're looking for good sources of information on a specific question, genuine experts are those who have put in substantial time and work focused on that subject area. They have learning, usually credentials, but they also have relevant experience. If they're at the top of their areas of expertise, there will usually be evidence of widespread respect from people who disagree with them as well as those who agree.
Whenever people allow themselves to see it, they respect competence, hard work, skill, and accomplishment. For Christians, this respect is more than a positive human tendency due to common grace. For us, it's a calling.
Incline your ear, and hear the words of the wise, and apply your heart to my knowledge (Prov 22:17; see also Prov 13:20)

The sluggard is wiser in his own eyes than seven men who can answer sensibly. (Prov 26:16)
Who do these verses tell us to listen to? "The wise," and "seven men who can answer sensibly."
The latter is what we today might call a panel of experts.
Processing claims of expertise in our culture is a complex topic, and I'll probably circle back to it. What's clear, though, is that good source-discernment seeks out the views of people most likely to really know.
Usually, political pundits are only experts in punditry. The same is true of CEOs and business, athletes and their sports, entertainers and their acts.
We normally see this easily. When we need surgery, or legal representation, or new wiring in the house, we don't ask a random person on Facebook. But, for lots of very frail, foolish, human reasons, we abandon sense when facing many of the hot-button issues of the day. Suddenly, we see random social media posters, relatives, or political pundits as experts on viruses, vaccines, voting machines, vote verification, state law, and constitutional law.
Christians should do better. There are at least "seven people" who actually know what they're talking about, and these should top our source list.
Photo: Jainath Ponnala on Unsplash.
---
Aaron Blumer, SharperIron's second publisher, is a Michigan native and graduate of Bob Jones University (Greenville, SC) and Central Baptist Theological Seminary (Plymouth, MN). He and his family live in a small town in western Wisconsin, not far from where he pastored Grace Baptist Church for thirteen years. He is employed in customer service for UnitedHealth Group and teaches high school rhetoric (and sometimes logic and government) at Baldwin Christian School.
1991 reads
5591 reads