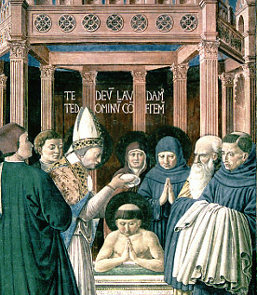 Read Part 1 and Part 2
We have seen evidence that some in the very early church may have baptized believers only. And we have seen that in the second through fourth centuries there was a mixture of practices, with both infant and believer's baptism. At the beginning of the fifth century something happened that caused infant baptism to become the widespread practice of the church. That something was a someone—Augustine. Perhaps no single person except Jesus and Paul had a more powerful influence on the teachings of the church than did Augustine. Everyone who sought to be orthodox throughout the Medieval and Reformation periods called himself Augustinian. Though I am not an authority on Augustine and I have not read all that he wrote on baptism, I want to note a few things that might give pause to the acceptance of his thinking on baptism.
In Confessions (A.D. 398) Augustine tells of his formative experiences with baptism.
2429 reads