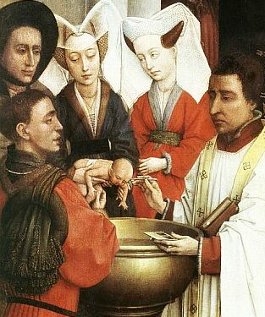 The very early tradition of the Christian church
An examination of baptism in the first few centuries of the church brings up many questions. The most important of these is, what did the Apostles teach in Scripture? But both paedobaptists1 and credobaptists can easily read Scripture in light of their own tradition. This series focuses on history. What was the very early tradition of the Christian church? Part 1 focuses on the period closely following the completion of Scripture. In this period, each writer has either first-hand or second-hand exposure to an Apostle. Part 2 will explore the next period: what was taught and practiced between the very early church era and Augustine? Part three will focus on Augustine: what was Augustine's contribution to the doctrine of baptism?
Eusebius: "brought up" then baptized
What did those with close exposure to the Apostles teach? In The History of the Church, written in the 4th century, Eusebius relates this story:
When the tyrant was dead [Diocletian, A.D 96], and John [the Apostle]…used to go when asked…sometimes to appoint bishops, sometimes to organize whole churches, sometimes to ordain one person of those pointed out by the Spirit…. [He] finally looked at the bishop and indicating a youngster he had noticed, of excellent physique, attractive appearance, and ardent spirit, he said, 'I leave this young man in your keeping'…. [T]he bishop accepted him and promised everything…the cleric took home the youngster entrusted to his care, brought him up…and finally gave him the grace of baptism.2
If the implications of the details of the story are correct, this boy was selected by John from those in the church. He was in this church, noticed (presumably pointed out by the Holy Spirit) by the Apostle John and raised by a bishop who had some relationship with the Apostle. Even though he was present in the church and raised on John's order, he received baptism only after he was "brought up."
Aristides: converting the children of Christians
Turning to the leaders in the early church, the 2nd century Aristides defended Christians whose "servants or…children if any of them have any, they persuade them to become Christians for the love that they have towards them; and when they have become so, they call them without distinction brethren."3 Aristides implies an answer to my first theological question: "Should infants of believing parents be considered part of the covenant community?" They were not. Instead, the church sought the conversion of the children of Christians. After that, they were treated as part of the Christian community. Paedobaptists stand, in part, on the idea that the promise is for you and your children. It is important to them that children are part of the Christian community by default. But the words of Aristides suggest that he stood on the idea that the Christian community was defined by faith, which is consistent with credobaptist teaching.
Didache: fasting precedes baptism
The Teachings of the Twelve Apostles, or Didache, was written at the end of the 1st or the beginning of the 2nd century. It says of baptism,
[T]his is how you shall baptize…. baptize in living water in the name of the Father and of the Son and of the Holy Spirit…. before the Baptism, let him that baptizes and him that is baptized fast, and any others also who are able; And you shall order him that is baptized to fast a day or two before.4
No instructions are given for infant baptism. Instead, it is assumed that the candidates for baptism are able to take orders to fast for one or two days. The instructions make more sense if credobaptism was contemplated by the writer, though that isn't certain. It is possible that the reader was expected to apply the fast only to adults. If infant baptisms had been in view, we would expect to find instructions here. The writers of the Didache made the effort to provide instructions for temperature (cold) and type of water (moving). But in the matter of personal preparation they only bothered to provide instructions for adults.
Justin: knowledge and choice
Justin Martyr's First Apology (circa A.D. 150) includes a description of baptism:
All then who are persuaded, and believe, that the things which are taught and affirmed by us are true; and who promise to be able to live accordingly; are taught to pray, and beg God with fasting, to grant them forgiveness of their former sins; and we pray and fast with them…. [A]nd after the same manner of regeneration as we also were regenerated ourselves, they are regenerated…[receiving] the washing of water.5
This was the pattern in the church. People were taught the gospel. They promised to live accordingly and were trained to do so. When they had done all this, they were baptized. This is credobaptism. Our brothers who practice and teach baptism of infants have two objections. First, while Justin does not name infants, they are not specifically excluded. Second, the church at that time was primarily in a missionary mode. Most baptismal candidates were adults who were coming to the faith and not the children of church members. "Missionary mode" might explain Justin's focus on what was common: adults. However, Justin also cites what he says are apostolic reasons for how they practiced baptism:
And we have received the following reason from the Apostles for so doing; since we were ignorant of our first birth…in order that we might not remain the children of necessity and ignorance, but of choice, and of knowledge; and that we might obtain remission of the sins we had formerly committed; in the water, there is called over him who chooses the new birth, and repents of his sins, the name of God the Father and Lord of all things; and calling Him by this name alone, we bring the person to be washed to the laver.6
Knowledge and choice were important. They were the "reason" for how the church practiced baptism. Justin said the second birth should be contrasted with the first. The contrast was between ignorance with the first birth and choice and knowledge with the second birth. Baptism was for those who chose the new birth, repented of sins, and called on God. Justin's point that the first birth and baptism are distinct in regard to knowledge and assent doesn't make sense if he knew that, for some Christians, they were not distinct and both births occurred in the ignorance of infancy. Further, Justin claims apostolic tradition for this. His account seems to demand faith and exclude infant baptism.
Irenaeus: Christ saving infants
Irenaeus' perspective is weighty because he knew Polycarp, who knew John the Apostle. He wrote Against Heresies in the late 2nd century to oppose the Gnostics who denied that Christ was ever an infant:
He came to save all by Himself: all, I mean, who through Him are newborn unto God: infants, and little ones, and boys, and youths, and elder men. Therefore He passed through every age, being first made an infant unto infants, to sanctify infants.7
This passage is taken by some to mean that Irenaeus believed in the baptism of infants. But does Irenaeus intend to equate the new birth with baptism here? Did Irenaeus generally believe the two were same? Elsewhere, Irenaeus said, "And again giving His disciples power to regenerate into God He said unto them, 'Go and teach all nations baptizing them in the Name of the Father and of the Son and of the Holy Ghost.'"8 He also referred to "the denying of Baptism, our new Birth unto God, and to the rejection of the whole Faith."9
Irenaeus did equate baptism with the new birth in some sense. If he had that view in mind in his statement about the new birth of infants, we should conclude that he is referring to the baptism of infants. But both sides of this debate can easily read the statement in light of their tradition. Baptists read him as saying that infants who die are saved, but not necessarily baptized.
In Fragment 34, Irenaeus says:
[W]e are made clean from our old transgressions by means of the sacred water and the invocation of the Lord. We are thus spiritually regenerated as newborn infants, even as the Lord has declared: 'Except a man be born again through water and the Spirit, he shall not enter into the kingdom of heaven.'"10
Does Irenaeus mean to say that "while" newborn infants we are regenerated? Or does he mean that we adults are regenerated and born-again as new-born infant Christians? It appears that Iranaeus is open to multiple interpretations.
Hippolytus: others speak for converts
In the early 3rd century Hippolytus described the methods for baptism in Apostolic Tradition: "They who are to be [baptized] shall be chosen after their lives have been examined: whether they have…been active in well-doing."11 Their "sponsors" testified to this.
[A]s the day of their baptism draws near, the bishop himself" must "be personally assured of their purity.

Then those who are set apart for baptism shall be instructed to bathe and free themselves from impurity and wash themselves on Thursday…. They who are to be baptized shall fast on Friday…. They shall spend all that night in vigil, listening to reading and instruction.12
Only believing applicants can fulfill these requirements. They must demonstrate good works and purity, fast, read Scripture, and hear instruction. But Hippolytus continued, "And first baptize the little ones; if they can speak for themselves, they shall do so; if not, their parents or other relatives shall speak for them. Then baptize the men, and last of all the women…"
These words are often cited as evidence of infant baptism. That interpretation comes easily to the minds of those accustomed to baptizing infants. However, leaders with experience interviewing and baptizing believing children tend to read this differently. Some children can speak for themselves. Others, while able to answer to their parents and friends, are too frightened to speak before the body of believers. This scenario is common. Their parents answer "for them" to the body. This reading also seems to fit better with the idea of "answering for" someone else. Paul demanded the opportunity to "answer for himself" in court (Acts 25:16). Hippolytus uses a list of questions of faith which must be answered. Anyone attempting to answer for another should know what that person believes.
Summary
Hippolytus leaned towards credobaptism. The Didache seems to assume credobaptism, but does not explicitly defend it. The cleric friend of John the Apostle practiced credobaptism. Justin Martyr argued positively that baptism is distinct from physical birth in that it is done with knowledge and assent. Aristides was inclined toward faith as the basis for inclusion in the Christian community, which is a basis for credobaptism. Irenaeus does not clearly advocate one position or the other (though he seems more likely to have been a paedo-baptist).
Since church was in more of a missionary mode in those times, most new believers were adults who were not from believing families. Can this explain why Hippolytus and the Didache, though alleged to be in favor of infant baptism, spoke of baptism with requirements that only adults could fulfill? Perhaps. But even in those days Christians had children. The "missionary mode" concept cannot explain Justin Martyr, because he doesn't just ignore babies—he argues that the baptized ones should be aware as opposed to infantile. It appears that the very early church was credobaptist.
Notes
1 The term "paedobaptist" derives from the Greek pais, meaning child or infant. Here is refers to infant baptism. "Credobaptist" derives from the Latin term credo, "I believe," and refers to believer's baptism.
2 The History of the Church, Eusebius, Trans. by G.A. Williamson, Penguin Books, London, 1965, pp. 83-84.
3 The Apology of Aristides, Ed. and Trans. by J. Rendel Harris, M.A., Cambridge University Press, 1893, p. 49.
4 Didache - The Teaching of the Lord by the Twelve Apostles to the Gentiles. [Online] Available from http://www.ccel.org/ccel/richardson/fathers.viii.i.iii.html. Accessed 5 July 2010.
5 First Apology 61, The Works Now Extant of Justin the Martyr, Oxford, London 1861, p. 46.
6 Ibid., p. 47.
7 Against Heresies, Book IV, Ch. 22.4, "Christ Blessed Every Age by Sharing It," from Five Books of S. Irenaeus, Bishop of Lyon, Against Heresies, Trans. The Rev. John Keble, M.A., 1872.
8 Ibid., Book 3, Ch. 17.1.
9 Ibid., Book 1, Ch. 21.1.
10 Fragment 34, Nicene and Post-Nicene Fathers Vol. 1, Edited by Philip Schaff, D.D., LL.D., Wm. B. Eerdmans Publishing Co., Grand Rapids. [Online] Available from http://www.ccel.org/ccel/schaff/anf01.ix.viii.xxxiv.html. Accessed 5 July 2010.
11 The Apostolic Tradition of Hippolytus, translated by Burton Scott Easton, Cambridge University Press, New York, 1934, p. 44.
12 Ibid.
---
Dan Miller is an ophthalmologist in Cedar Falls, Iowa. He is a husband, father, youth-worker, and part-time student.
7854 reads