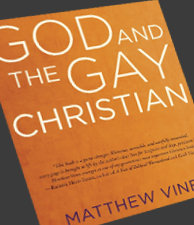 God and the Gay Christian addresses the morality of homosexual conduct, specifically within "committed, monogamous same-sex relationships" (41). In the introduction and first chapter, most of Vines' energy went into framing the debate as a matter of personal suffering (i.e., here's what happened to me and is happening to homosexual Christians everywhere) and as a matter of progress (i.e., the church should improve its understanding of homosexual morality just as it has improved its understanding of other matters in Scripture).
Chapter 2 continues Vines' efforts to frame the debate in these terms. (Kindle location numbers appear here rather than page numbers.)
The importance of progress
The section "New Information, New Viewpoints" sets the stage for the chapter by recounting Galileo Galilei's famous 17th century conflict with the Roman Catholic church. To Vines, it's a classic example of a traditional interpretation of Scripture that Christians, with the aid of science, eventually discovered to be in error.
2548 reads