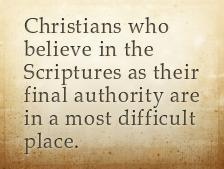 In 1979, Francis Schaeffer wrote,
The thinkables of the eighties and nineties will certainly include things which most people today find unthinkable and immoral, even unimaginable and too extreme to suggest. Yet—since they do not have some overriding principle that takes them beyond relativistic thinking—when these become thinkable and acceptable in the eighties and nineties, most people will not even remember that they were unthinkable in the seventies. They will slide into each new thinkable without a jolt.1
Schaeffer was referencing issues such as abortion, in the wake of the Roe v. Wade decision in 1973. Abortion, which previously had been recognized as evil, was at the time rapidly finding acceptance in American culture. In light of shifting values concerning abortions, Schaeffer predicted similar devolution in other moral areas. Would he be surprised by today's approval and promotion of all things homosexual? What was considered throughout most of human history as sinful behavior and, until 1961, declared a crime in all American states and more recently as a psychological disorder,2 has now been embraced by people from all walks of life.
5950 reads