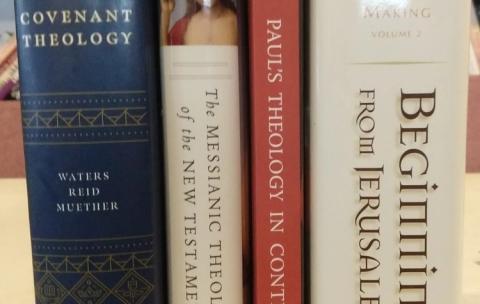 These are a few thoughts on the books I read last year. I may have missed one or two but this list is pretty complete. Many of the works were read as I researched Volume Two of The Words of the Covenant. Not to knock them but rarely now am I helped by books that I already agree with. I did not include two books that I am more than halfway through: Paul: A New Covenant Jew by Pitre, Barber & Kincaid, and Peter Stuhlmacher's Biblical Theology of the New Testament. If I do this again at the cusp of 2024 I shall give my opinion on both of them. Have a Happy and Blessed New Year!
The Messianic Theology of the New Testament – Joshua Jipp
An engaging Reformed treatment of an important theme. Clearly, I don't agree that Jesus is on David's throne now, but it is very important because of what it highlights.
1 Peter – Craig Keener
Keener is a very clear writer. He always provides loads of background info. Sometimes he overdoes it, but this is a very good all-round commentary.
Revelation – Buist Fanning
Fanning is an excellent commentator who packs a lot of information into a page. I wasn't convinced by everything in this book (like his treatment of the sixth seal in Rev. 6), but found this a great way to think through Revelation. Definitely deserves to be near the top of anyone's lists on the last book of the Bible.
997 reads