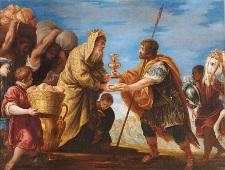 Part One: The Loud Silence
The writer to the Hebrews (perhaps Apollos?) is trying to convince tottering Jewish believers to remain true to Jesus Christ. He is also trying to comfort these believers who are shaken up because some of their peers had turned away from faith in Jesus Christ and returned to non-Messianic Judaism.
The writer is out to prove that faith in Jesus is better than Judaism without Jesus by proving that Jesus is Superior to anything Judaism has to offer. Prior to chapter 7, he has proved Jesus' superiority by asserting His deity. Now he is proving Jesus' superiority in His humanity. The Melchizedek argument demonstrates that Jesus (in His humanity) is superior to Abraham, the man considered the Father of the Jewish faith.
Jewish imagination did a lot with Melchizedek, and during the medieval times, they viewed him as none other than Noah's son, Shem. The Jewish Encyclopedia gives many examples of Jewish creativity:
According to Midr. Teh. to Ps. xxxvii., Abraham learned the practice of charity from Melchizedek. Philo speaks of him as "the logos, the priest whose inheritance is the true God" ("De Allegoriis Legum," iii. 26).
The writer to the Hebrews has a different goal in mind. Here is his argument:
Abraham recognized Melchizedek as spiritually superior to himself.
Jesus is of the order of Melchizedek (his successor).
Therefore, Jesus is greater than Abraham.
Christian commentators embrace a number of views about who this Melchizedek is. Some view him as the pre-incarnate Son of God, an angel, a specially created man or being, etc. The purpose of this series is not to examine the various positions, but to offer this author's paradigm for understanding this mysterious priest-king. My interpretation is fallible. The text is not. I grant you permission (not that you need it) to completely or partly disagree with me!
My main idea is this: Melchizedek was a mere mortal man whose background was purposely glossed over so he could become an amazing type of Jesus Christ. The loud silence of the text in Genesis is crucial. Thus the Melchizedek mystery is unlocked from its vault by the key of Midrash. The writer to the Hebrews inserts and turns the key.
Who Was Melchizedek?
To understand this passage in general, you must understand that it is a Midrash, an elaboration of a text based upon an ancient Jewish way of thinking. Midrash majors in bringing out meanings of texts that are not immediately obvious. These unobvious meanings, once developed, may be called "mysteries."
In this case, the author is bringing material out of a text based upon what is not said in the text, since we would have been expected much more to have been said. The author builds his case upon a "loud silence."
This is an important question: Why would God briefly introduce a figure like Melchizedek in Genesis 14, say very little about him, and then declare that the Messiah would be a priest after his order? My answer: To keep Melchizedek intentionally mysterious so that he could be a type of the Jesus.
If we knew more about Melchizedek, he would no longer be a type (a foreshadowing) of Jesus!
Note the Argument from silence: a case of intentional mystery.
Melchizedek in the OT
Here are the only First Testament verses that mention this extremely important man, Melchizedek.
Genesis 14:17-20 (passim, Tree of Life Version):
Now after he (Abram) returned from defeating Chedorlaomer …Then Melchizedek, king of Salem, brought out bread and wine—he was a priest of El Elyon. He blessed him and said,
"Blessed be Abram by El Elyon, Creator of heaven and earth, and blessed be El Elyon, Who gave over your enemies into your hand."
Then Abram gave him a tenth of everything.
Psalm 110:4
The Lord has sworn and will not change his mind, "You are a priest forever after the order of Melchizedek."
Notice Melchizedek appears with no genetic credentials. This does not mean that he had no genetic credentials, but that the Scriptures intentionally fail to mention them — even though he is an extremely important personage. There is no record of his parents, birth or death, and thus appears in the record as seemingly timeless. He seems to surface out of nowhere and then returns to nowhere.
Hebrews 7:3 (ESV) reads,
He is without father or mother or genealogy, having neither beginning of days nor end of life, but resembling the Son of God he continues a priest forever.
Note the word "resembling." This should make it clear that he is not the Son of God, but merely resembles (in type) the incarnate Son of God.
Although his credentials are omitted, his identity is clearly stated. He is the real earthly king of a real earthly city. He is not "king for day" or "priest for an hour." The people of Salem knew him. He was no phantom.
His dynasty — or at least part of a dynasty name tradition — probably continued up to and including Salem's king during the time of Joshua, Adoni-zedek. Salem is the same city as Jebus or Jerusalem. This Canaanite king is mentioned in Joshua 10.
Besides being a king, Melchizedek is also presented as a real earthly priest of El-Elyon (God Most High). It was not unusual for small "city-states" to have a king who was both king and priest.
There were believers in the One God, believers who apparently abstained from idolatry. Job, for example, is thought to have been alive at this same time. His friends, although theologically misguided, also had knowledge of this one true God.
Later, we read of Jethro who was a priest of God yet not a Hebrew. Balaam, though corrupted, was also a gentile prophet of God.
Although the Canaanites worshipped a particular god (among others) known as "El," El was worshiped as an idol. We are right to assume that either during the time of Melchizedek, the Canaanites in Salem refrained from idolatry — or at least Melchizedek did. We can assume this because Abraham recognized Melchizedek as God's true representative. This priest may not have known God's Personal Name (Yahweh), but He at least knew Him by one of His titles, "God Most High."
6378 reads