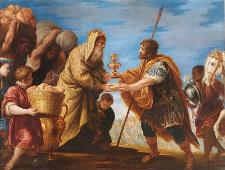 Read Part 1.
Part Two: The Argument from Midrash
There are different approaches to the subject of midrash (or its plural, midrashim). Put simply, a midrash is a Jewish style of elaboration, exposition, or "mining" of a text. The idea is to find both obvious teachings and teachings not immediately obvious—but still latent within the text. In my view, when a New Testament author "unlocks" teachings not immediately obvious, he has uncovered a "mystery." Jesus did this to prove the resurrection from the Torah, much to consternation of Sadducees (Matthew 22:29-32).
The Book of Hebrews is one midrash after another. For example, chapter 6 is a midrash of Numbers 13-14. Chapter 7 is a midrash on Genesis 14:17-20 and Psalm 110:4, and it highlights the "loud silence" in these Old Testament texts.
To our thinking, midrash can sometimes be a bit of a textual stretch. That is why we trust the New Testament writers: they were supernaturally inspired of God. On the other side of the coin, we should demonstrate hesitation toward non-canonical midrash.
2539 reads