Image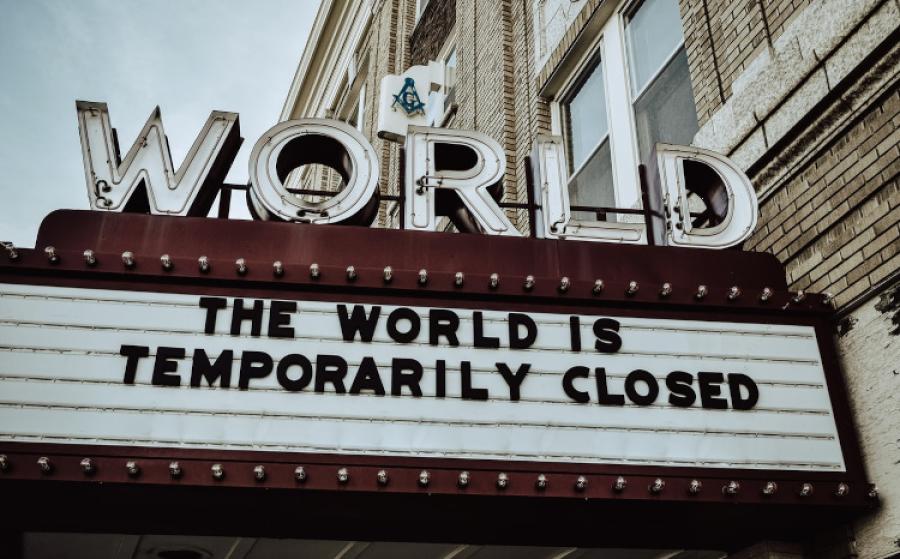 For many of us it was never about fear. We wore masks. We social-distanced. We avoided gatherings. We encouraged people to consider participating in Sunday school and worship over Zoom or Facebook Live. We respected the officials who—for better or worse, correct or incorrect—made the tough calls and closed businesses, limited gatherings, and recommended or required masks.
We were not "afraid."
We didn't choose "fear instead of faith" and certainly didn't choose "fear instead of science."
What we felt was a sense of responsibility. We felt that responding wisely to a fast-spreading, largely mysterious disease required millions of people to do things that, individually, would only help a little bit, if at all, but that might, repeated millions of times by millions of citizens, reduce suffering and death.
This sense of responsibility seemed to be missing among many of our fellow Christians, and that grieved us.
We're responsible to be good stewards of our own personal health and the health of our families.
Stewardship runs all through Scripture. The first man is instructed to take care of Eden (Gen 2:15). David publicly acknowledges that our possessions come from God and remain actually His (1 Chron 29:14, 16; cf. Psalm 24:1). Jesus teaches the parable of the talents (Matt 25:14-30) and declares that to whom much is given much will be required (Luke 12:48).
Paul gets intensely personal:
… do you not know that your body is a temple of the Holy Spirit within you, whom you have from God? You are not your own, 20 for you were bought with a price. So glorify God in your body. (1 Cor 6:19–20)
Paul was making a point about sexual conduct, but bases his point on a broad principle: our bodies are a trust that we'll answer for (2 Cor 5:10).
Other passages reveal another trust: those whom God has given us to love (1 Tim 5:8).
For the Christian, "looking out for number one" and "looking out for my family" are, above all, about responsibility, not about rights. Thinking biblically means we don't see duty as an alternative to love and joy. We embrace duty out of love and with joy.
For a lot of us, distancing, avoiding unnecessary gatherings, wearing a mask in places where people gather (whether required or not), were conscious decisions to avoid being reckless with our own life and health as well as the life and health of our families. We felt something strongly, but "fear" is not its name.
We're responsible for how our actions impact the well-being of those in the community we live in.
I've often posed a question to students: Why didn't God take us to be with Him the moment we believed? One answer is that we're here to do some things for the unbelieving masses around us.
Obviously, we're here to help by making disciples (Matt 28:19) by declaring the message of the gospel and by doing good (Matt 5:16; see also Phil 2:15, Eph 5:8).
But there's more. We're here to bless those around us not just as a means to the end of disciple-making but because it glorifies God all by itself.
And a second is like it: You shall love your neighbor as yourself. 40 On these two commandments depend all the Law and the Prophets." (Matt 22:39–40)

So whatever you wish that others would do to you, do also to them, for this is the Law and the Prophets. (Matt 7:12)

So then, as we have opportunity, let us do good to everyone, and especially to those who are of the household of faith. (Gal 6:10)
The Christian mind elevates responsibilities over rights and sees the responsibility to do good as extending to both believing and unbelieving fellow humans.
When we started hitting 3,000 deaths a day I went for supplies with some apprehension a few times. Distance, mask, and hand sanitizer were of some comfort. But quite a few times, I've looked to see if people were masked then corrected myself: "Doesn't matter. This is about helping people out. I don't want to frighten anyone who's high-risk or who's just fearful, and I don't want to spread disease if I can be part of reducing that in a small way by doing this small thing."
We're responsible for what we encourage other people to do or not do.
Example is a powerful thing, and not just for those in leadership. Because we're social creatures, the behavior of those around us influences our sense of what's normal. Some difficulties come with that, but God designed us this way.
In Christ's body, the church (Col 1:18), God took that design a step further. Believers are not isolated individuals, not just members of a community, but members of a single living thing.
… But God has so composed the body, giving greater honor to the part that lacked it, 25 that there may be no division in the body, but that the members may have the same care for one another. 26 If one member suffers, all suffer together; if one member is honored, all rejoice together. (1 Cor 12:24–26)
What we do or don't do encourages others to do likewise, not just because they see us, but because they're joined to us. For a lot of us, that prompted questions. I might be comfortable ignoring this or that precaution, county health department "request," or clearly posted sign at a business. But what if my behavior causes someone else to stumble (Rom 14:21)? What if I unintentionally communicate support for the attitude that the driving force behind a Christian response to COVID is standing up for rights, or resisting the leadership of politicians we disagree with, or being broadly negative toward science?
We wanted to visibly convey compassion for others and support for decision-makers. Maybe we didn't convey what we hoped. We certainly weren't driven by fear.
We're responsible for the impression we create of our faith.
Many are going to have a bad impression of the Christian faith no matter what we do. That doesn't change the fact that we're responsible for the impression we create by our actions.
… give thought to do what is honorable in the sight of all. (Rom 12:17)

… for we aim at what is honorable not only in the Lord's sight but also in the sight of man. (2 Cor 8:21)

… that you may walk properly before outsiders and be dependent on no one. (1 Thess 4:12)
Peter seems to have confronted a self-inflicted pseudo-persecution problem:
16 Live as people who are free, not using your freedom as a cover-up for evil, but living as servants of God… .
20 For what credit is it if, when you sin and are beaten for it, you endure? But if when you do good and suffer for it you endure, this is a gracious thing in the sight of God. (1 Pet 2:16–20)
When Jesus said "the world" would "hate" us (John 15:9), He didn't mean "people in general" or "most unbelievers," but either way, we're not supposed to make hating us easy by needlessly appearing to be the arrogant, self-absorbed, and self-righteous people critics say we are.
Some of us felt that churches should join their communities in the struggle and try to convey not only Christian calm, but Christian compassion and Christian wisdom. We didn't see how we could do that by acting as though the pandemic wasn't real or wasn't serious or as though mitigation efforts were foolish. We thought "we care about people" was a more important message than "we care about holding services."
So, right or wrong, we stayed home. We didn't do it because we were afraid.
Photo by Edwin Hooper on Unsplash.
Aaron Blumer is a Michigan native and graduate of Bob Jones University and Central Baptist Theological Seminary (Plymouth, MN). He and his family live in small-town western Wisconsin, not far from where he pastored Grace Baptist Church for thirteen years. In his full time job, he is content manager for a law-enforcement digital library service.