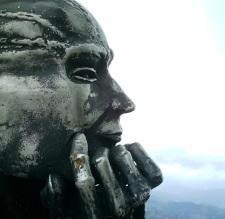 Viewed in isolation, some passages of Scripture seem to convey that there is a special danger in the human intellect—danger that is greater than the hazards of, for example, "the heart." Sadly, these passages are often viewed "in isolation" in churches strongly influenced by revivalism, romanticism (see also IEP), or both.
Used as slogans, passages like the following seem solidly anti-intellectual:
Knowledge puffeth up, but charity edifieth. (1 Cor. 8:1)
God hath chosen the foolish things of the world to confound the wise. (1 Cor. 1:27)
Beware lest any man spoil you through philosophy and vain deceit. (Col. 2:8)
Ever learning, and never able to come to the knowledge of the truth. (2 Tim. 3:7)
Trust in the Lord with all your heart and do not lean on your own understanding. (Prov. 3:5-6)
Based on passages like these, anti-intellectuals teach that Christians should focus more energy on "matters of the heart" in contrast to the intellect. Study and analysis should be viewed with greater suspicion than impression and intuition (supposedly, the special domain of the Holy Spirit). The quality of worship should be gauged by what's felt more than by what's thought or learned.
But these are errors, and we can correct or avoid them by looking more comprehensively at what Scripture reveals about the inner man. What follows is intended as a start.
Four Reasons to Reject Anti-Intellectualism
1. We don't live in overly intellectual times.
Some ministries have a tradition of seeing intellectual pursuits as worldly. The attitude is that Christian teaching should act as a corrective influence against this form of worldliness by warning often against intellectualism.
But I often wonder what world they're looking at. It doesn't seem to be the one I live in. Twenty-first century society in the West has many problems, but are we suffering from an overabundance of sound reasoning, solid facts, and precise communication? Is our educational system too thorough? Are students spending too much time reading great books or are their critical thinking skills overdeveloped?
In politics and social policy, do our debates often get bogged down in too much detailed analysis? How often do we actually debate at all?
Looking at conservative churches, do we find an excess of biochemists, philosophers, neurosurgeons, astronomers, and physicists? Are churches plagued with too much rigorous thinking about what Scripture means and what it demands in the times we live in?
Intellectualism might have once been a kind of worldiness in our culture in the past, but today, the dominant attitude of "the world," is one of intellectual laziness, emotion-driven belief, and decision-making based more on group-loyalty (a.k.a. tribalism) than on a diligent quest for truth.
So Christian ministry doesn't have an intellectualism problem to fix. If there is any reason to emphasize "heart" over intellect in Christian ministry, "the world is too intellectual" can't be it.
2. The intellect and the "heart" aren't really alternatives to each other.
There's a kernel of truth in the old "head belief vs. heart belief" contrast. It's possible to acknowledge that a conclusion makes sense but not actually embrace it as truth. It's possible to acknowledge that an idea is true, yet attach no personal importance to it. It's easy to accept something as true but fail to accept how that truth relates to who we are and how we live, then accept those implications, and act.
But none of these problems are actually failures of elevating intellect over "heart." They really aren't "head vs. heart" problems. They can't be, because Scripture shows us that our emotions, affections, and values ("heart") are so intertwined with our reasoning, analysis, and gaining of knowledge ("head") that a good bit of the time we can't really tell where one ends and the other begins.
The most common word for "heart" in the Old Testament is the Hebrew lev. In Proverbs, the lev feels the whole range of emotions (15:13, 15; 13:12; 14:10) and makes choices (3:1, 5; 5:12). But it also understands (2:2), devises plans (6:18; 16:9), studies (15:28), teaches (16:23), and ponders (23:7). So when Proverbs 4:23 warns us to diligently keep our hearts (lev), it's calling us to guard (natsar) our entire inner man—including both the intellectual and the nonintellectual.
The most common word for "heart" in the NT (kardia) shows a similar pattern. Along with its connection to a range of emotions and attitudes, the kardia thinks (Matt. 9:4) understands (Matt. 13:15) questions (Mark 2:8, Luke 3:15), ponders (Luke 2:19)—even reasons (dialogismos, Luke 9:47).
Since the Bible reveals that our intellectual and non-intellectual capacities are complementary, trying to pit them against each other to produce a winner is foolish.
3. The Bible doesn't teach that the heart is trustworthy.
Scripture not only shows us that the intellectual and non-intellectual within us are complementary and intertwined, but it also warns us about both them in roughly equal measure. Whatever we understand the "heart" to be, it's certainly not more reliable than the brain.
In Mark 7:20-23, the heart (kardia) is a source of all sorts of defiling behavior.
In Acts 5:3-4, it's the heart of Ananias that Satan fills so that he lies to the Spirit.
In Acts 8:20-22, Simon's heart is what has evil "intent" (v.22) and drives him to think incorrectly (v.20).
In 1 Kings 11:4-9, Solomon's heart (levav—clearly,  his affections) eclipses his wisdom and turns him after false gods.
In Jeremiah 17:9, the heart (lev) is deceitful and sick.
4. Not all knowledge "puffs up."
Pride of knowledge is a real problem, but so is the pride of any other possession. Whether we're proud to have more knowledge than others or more land, money, friends, experience, or good looks—it's all the same.
And some knowledge clearly isn't pride-inducing at all. Consider knowledge of the gospel, for example (1 Tim. 2:4): knowing that we've grievously wronged the God who made us, that all the good we could do in a thousand lifetimes wouldn't even begin to merit God's forgiveness, and that only His own righteousness graciously credited to us can make us acceptable to Him is humbling knowledge!
So it's not surprising that the New Testament often speaks of the importance of knowledge and, therefore, of intellect.
Jesus said to them, "Is this not the reason you are wrong, because you know neither the Scriptures nor the power of God?" (Mark 12:24)

For I bear them witness that they have a zeal for God, but not according to knowledge. (Rom. 10:2)

Woe to you lawyers! For you have taken away the key of knowledge. You did not enter yourselves, and you hindered those who were entering. (Lk 11:52)

[W]e have not ceased to pray for you, asking that you may be filled with the knowledge of his will in all spiritual wisdom and understanding, (Col. 1:9)

Yet among the mature we do impart wisdom, although it is not a wisdom of this age or of the rulers of this age, who are doomed to pass away. (1 Cor. 2:6)
The Bible is anything but anti-intellectual. In the beginning, God created us as thinking beings in His image and gave us work for our minds (Gen. 2:19). Jesus commanded His followers to be mentally sharp (Matt. 10:16), and the apostle Paul urged us to "take every thought captive" to the obedience of Christ (2 Cor. 10:5). Drawing our conclusions about truth, error, right and wrong based on intuition and feelings—without disciplined attention to knowledge and clear thinking—isn't Christian; it's a worldly capitulation to the lazy sentimentality of our times.
---
Aaron Blumer is a Michigan native and graduate of Bob Jones University and Central Baptist Theological Seminary (Plymouth, MN). He and his family live in small-town western Wisconsin, not far from where he pastored Grace Baptist Church for thirteen years. In his full time job, he is content manager for a law-enforcement digital library service.
2465 reads
6687 reads