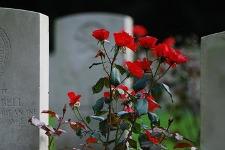 By Jordan Standridge. Reposted from The Cripplegate.
Funerals are a gift from God. I know that sounds crazy, but they are a God-given tool to force us to reflect on the brevity of life, and how finite we are as human beings. I truly do believe that humans should attend as many funerals as possible during their lives. It is that good for your soul.
I had the privilege of attending two recently, and they could not have been more different from each other.
The first was that of a believer. One of the sons (who is an elder at our church) gave the eulogy, and the other son, who is a Presbyterian pastor, gave the message. At least 100 people were there. The second was for a non-believer. I had the privilege of giving the message at that one to a crowd of 10 people at the local funeral home.
I haven't been able to stop thinking about the incredible difference between the two funerals. Both individuals were in their 80s, both had lived long lives full of experiences, and yet, the outcome of their funerals could not have been more different. Two reminders were very evident as I reflect on this particular "funeral Friday."
A loving act is not enough to save someone
This one is tough for me to think about. The more I think about it, the more sadness I feel. The reason I was asked to do this particular lady's funeral was because she loved Immanuel Bible Church. Two years ago, she was involved in an accident in front of our church. One of our pastors promptly assisted her, brought her into the church, cared for her, and treated her with so much kindness and was faithful to share Christ with her. The daughter told me at the funeral that even though none of them have ever been to church, her mother — since that day — could not stop talking about how wonderful Immanuel is.
But the mother never came to a church service. When I asked the daughter about her mother's faith, she was very clear about the fact that she didn't believe, but she was just very thankful for the help she received that day.
It has been tough to think about this incident. I can't tell you how emotional the daughter became when she described how thankful her mom was for our church. This story should make us all a little squeamish. An act of love is not enough to save someone. In the case I described, the truth was proclaimed to her but even so this is a reminder that our actions will never convince someone. It takes a miracle, and that miracle only comes through the Word of Christ (Rom. 10:17). The loving act was so meaningful in this person's life that she told her family members about it, not for a couple days, or weeks, but for years!  But the love act was not enough; not only did it not move her to give her life to Jesus, it did not even move her to attend church on one Sunday!
At the funeral, I didn't mention anything about this incident; I focused on the fact that Jesus is the answer to any struggle we face in life. When tragedy strikes, we look all kinds of places to find out joy, but the only One who can give us lasting joy is Jesus Christ, and that is found in the Gospel. Perhaps joy was on my mind because I had just come from a funeral that displayed it so well…
The invincible joy of knowing Christ
This funeral was night-and-day different. There were dozens more people. There were smiles on people's faces. Congregational songs were being sung. But it was the two sons of this man that truly made this funeral one to remember.
The first son, an elder at our church, gave the eulogy. In it he described his father as having invincible joy. He talked about a man who truly loved Christ and was able to live life in such a way that glorified His Savior 'til his very last breath. Despite the circumstances he faced, including the loss of his wife a year and a half before he died, he always had joy. It was invincible.
The other son, a retired Presbyterian pastor, preached a remarkable sermon about the faithfulness of God. He called it an Ebenezer moment — of course we sang Come Thou Fount of Every Blessing, but in this sermon he thanked the Lord for the impact that his father had had on his whole family. All of the family members who were there that day loved the Lord and served the Lord faithfully in their churches. The best moment was when he said he looked forward to Heaven one day when the five generations of the Gleason family would be worshipping all together at the throne of God. He did a remarkable job of honoring his father, and serving his family well, but also in encouraging all the rest of the people who attended.
The contrast between the two funerals was stark — it was 1 Thessalonians 4:13 being displayed right before my eyes. The Christian family knew what to do. They were prepared. They were so prepared that they were ready to take this whole thing to heaven right then and there. The sadness of course was there, but the joy of the Lord took up too much room for the sadness to take root. The other funeral was the opposite. Confusion. No one knew what to do. No one knew what the service should look like. No one had anything to say, so the daughter simply read a few words she found that her mother had written. The only way to describe it was by the word "empty."
I'm hopeful because the Lord is in the business of turning tragedy into triumph. A dozen people heard the gospel on Friday as a direct result of the random act of kindness one of our Pastors took the time to make over two years ago. And perhaps even on her death bed she could have trusted in Christ for her salvation.
I'm thankful for the gospel. The joy we get to partake in is a miracle that God in His kindness has allowed us to experience, and it is only going to get better once we die and go to heaven. I pray that we all remember just how blessed we are if we know the Lord, and that we would be active, not only in loving the world in our actions, but also with our words as we plead with them to repent and believe in Christ.
---
Jordan is the pastoral associate of evangelism at Immanuel Bible Church in Springfield, VA. He has a wife named Jenny and 4 children, Davide, Matteo, Nico and Gabriella.
2084 reads