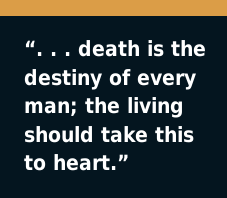 Death is an occasion and funeral homes are a place marked by much sadness and grief. And yet, according to Holy Scripture, there is something potentially beneficial about such an occasion and such a place. As the writer of Ecclesiastes puts it, "It is better to go to a house of mourning than to a house of feasting" (7:2 NIV). To paraphrase, "Better to spend your time at funerals than at parties" (NLT). Why would the Bible make such an assertion? What is this passage teaching us?
What the Text Isn't Saying
To begin with, let's consider what this passage is not teaching:
1. It's not teaching that life is a drag
The writer of Ecclesiastes is not forbidding or discouraging us from enjoying ourselves at festive occasions. In other words, the text is not teaching that it's wrong to celebrate and to be happy. Earlier in the book the writer says, "There is a time to weep and a time to laugh, a time to mourn and a time to dance" (3:4). Later, he says, "When times are good, be happy" (7:14). According to the New Testament, the Lord Jesus himself celebrated weddings (John 2:1-11) and enjoyed feasts (Matt 11:19). So it's not necessarily wrong to be to be in "the house of feasting." God isn't a cosmic killjoy!
1109 reads