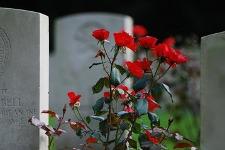 By Jordan Standridge. Reposted from The Cripplegate.
Funerals are a gift from God. I know that sounds crazy, but they are a God-given tool to force us to reflect on the brevity of life, and how finite we are as human beings. I truly do believe that humans should attend as many funerals as possible during their lives. It is that good for your soul.
I had the privilege of attending two recently, and they could not have been more different from each other.
The first was that of a believer. One of the sons (who is an elder at our church) gave the eulogy, and the other son, who is a Presbyterian pastor, gave the message. At least 100 people were there. The second was for a non-believer. I had the privilege of giving the message at that one to a crowd of 10 people at the local funeral home.
I haven't been able to stop thinking about the incredible difference between the two funerals. Both individuals were in their 80s, both had lived long lives full of experiences, and yet, the outcome of their funerals could not have been more different. Two reminders were very evident as I reflect on this particular "funeral Friday."
1474 reads